2015 Ewha Family Christmas Service was held at Welch-Ryang Auditorium in the afternoon of Thursday, December 3, when Christmas mood was in full swing with the snow that started falling in the morning. The service was attended by students, former and current faculty, Ewha graduates, and especially by President Choi Kyung-hee and President of Ewha Alumnae Association Kim Yeong-ju.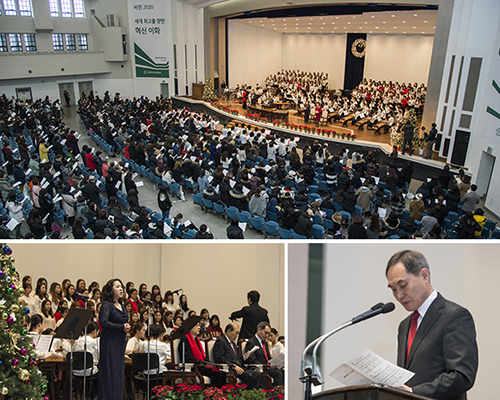 The service began with "Prayer by Ewha" given by University Chaplain Yang Myeong-su, and then reading of Philippians 2:5-11 by President of Ewha Alumnae Association Kim Yeong-ju. College of Music Chorus and Professor Kim Eun-hee (Voice Major) sang praise, "O Holy Night."

Deoksu Church's elder pastor Son In-woong gave a sermon under the theme of 'God who empties everything and stays empty-handed,' saying we all should lower ourselves and reach out to those in poverty and hardship, emulating Jesus who gave up his authority and came into the world with empty hands to save us. The sermon was followed by Ewha Alumnae Association Mission's special hymn, "King of Love" and then the collection of offerings for Ewha-graduated missionaries serving in every corner of the world including South America, Central Asia and Africa.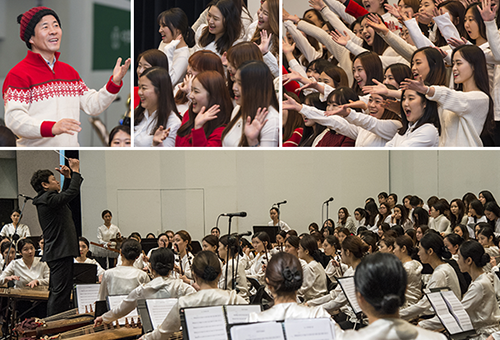 College of Music Chorus directed by Professor Park Shin-hwa (Voice Major) sang "Let It Snow" and "Jingle Bells" along with a dance routine that heightened the mood, and then Ewha Korean Music Orchestra led by Professor Won Young-seok (Korean Music Major) played "Christmas Song Medley" and "Festival" with Korean instruments in a glamorous and grand oriental melody, which drew enthusiastic response from the audience. Lastly, every attendee sang '"Joy to the World," meditating the meaning of Christmas.