Ewha's College of Education held a ceremony to celebrate the 100th anniversary of teacher education and an international academic conference at Education Building on Friday, November 27.

The morning celebration drew about 150 attendees including President Choi Kyung-hee; President of Ewha Alumnae Association Kim Yung-ju; President of Ewha College of Education Alumnae Association Shin Kyung-hee and other College of Education students; former and current professors; and alumnae. Dean of College of Education Kim Sung-won presented the main accomplishments achieved through the centennial history of teacher education and its future vision, and then awarded Plaques of Achievement to Professors Emeritus An In-hee, Kim Tae-ryeon, Lee Eun-wha, and Kang Soon-ja along with President of Ewha Alumnae Association Kim Yung-ju, in recognition of their devotion to the development of teacher education. The commemorative ceremony was followed by an international academic conference, a venue for uniting and joining forces to seek ways to strengthen teachers' capacity and lead teacher education home and abroad in the 100 years to come.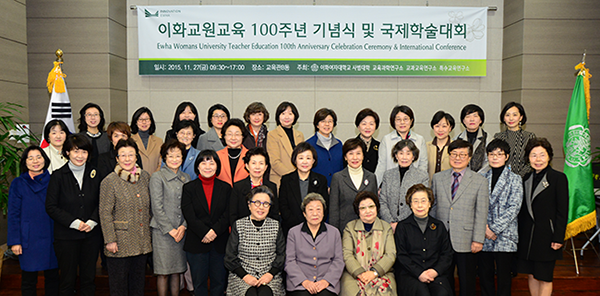 Ewha's teacher education originated from the Kindergarten Training School established at Ewha Hakdang in 1915. The foundation was a groundbreaking event in the modern history of Korean women that represents women's changing roles in education from beneficiaries to agents. Ewha's College of Education, Korea's first private college of education which was founded in 1951, has continuously evolved, writing the history of Korea's teacher education. As a result, Ewha's College of Education established itself as a leader in teacher education: it won the prestigious title of "The Most Outstanding College of Education" in the National Evaluation of Colleges of Education, hosted by Ministry of Education, for three consecutive years in 1998, 2004, and 2010, and was selected as the biggest beneficiary of Ministry of Education's Assistance Program for Leading Colleges of Education in Teacher Training for the four years from 2011 to 2014.