The Ewha Institute for the Humanities held the 15th Kim Okgill Memorial Lecture on Wednesday, November 25, at the ECC Lee Sam-Bong Hall. The Kim Okgill Memorial Lecture is an annual event that has been held since 2001 in memory of Kim Okgill, the 8th president of Ewha who devoted her life to women's education and social justice. For this year's lecture, Jean-Marie Gustave Le Clézio, the 2008 Nobel Laureate in Literature, was invited to give a lecture under the theme of 'Seeds and Fertility: Migration in Culture and World Literature.'

Professor Le Clézio began his lecture on the recent global issues of refugees and immigrants, saying that as a descendant of immigrants on the island of Mauritius, he himself is closely related to the subject of immigrants. He also pointed out that unlike the (media's) description of the current immigration issue as a threat to Europe, immigrants who fled to Europe escaping from civil wars and terror threats in African, Islamic, and Arab nations can actually enrich European cultures by sowing new cultures, intelligence, and creativity. Especially, literature is a forum where readers, regardless of their nationality and race, can open up their minds to different cultures without prejudice, and we should open our hearts to immigrants and embrace their cultures to achieve hope for genuine mutual peace, he stressed.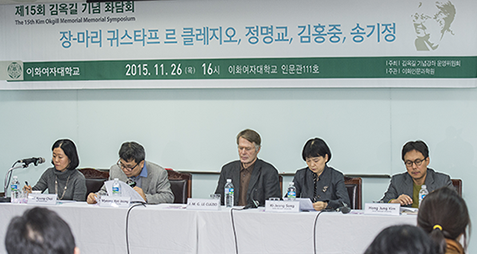 A round table talk on the same subject was held at Humanities Building 111 in the afternoon of Thursday, November 26. The event was designed to discuss immigration issues and embracement of cultural diversity, attended by professor Le Clézio and Korea's leading scholars in the field of humanities and social science including Song Ki-jeong, Director of the Ewha Institute for the Humanities; Jeong Myeong-gyo (Jung Gwa-ri), Korean literature professor at Yonsei University; Kim Hong-jung, sociology professor at Seoul National University.