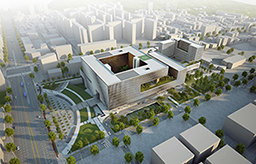 Ewha Womans University Medical Center held a groundbreaking ceremony for its new hospital and College of Medicine at the construction site in Naebalsan-dong, Gangseo-gu, western Seoul, on Monday, November 23th. The new hospital will be comprised of five levels underground and ten levels above ground with 1,036 beds and College of Medicine with five levels underground and 12 levels above ground. Both constructions will be completed by late 2018.
The ceremony was attended by Yoon Hoo Jung, President Emeritus; Chang Myong-Sue, Chairperson, The Board of Trustees of Ewha Womans University; U Bokhi, Board member; Choi Kyunghee, Ewha President; Kim Seung Cheol, Executive Vice President for Medical Affairs and President of the Medical Center; Kim Kyung-hyo, Dean of School of Medicine; Ryu Kyung Ha, President of Ewha Womans University Mokdong Hospital; Kim Young-Joo, President of Ewha Alumnae Association; O Hyesuk, President of Alumnae Association College of Medicine; and other Ewha faculty, alumnae, donors, and staff members. Other attendees included Ro Hyun-song, Mayor of Gangseo-gu; Shin Ki-nam, Member of the National Assembly, Gangseo-gu Gap; Kim Sung Tae, Member of the National Assembly, Gangseo-gu Eul; Kim Choon Jin, Chairman, Health and Welfare Committee, the National Assembly; Lee Yeongu, Chairman of Gangseo District Council; Lee Seoghi, Director, Western Seoul District Office, Ministry of Employment and Labor; and other 500 guests.
Ewha President Choi Kyunghee gave her congratulatory speech, saying "The new hospital and College of Medicine campus, equipped with a world-class education, research and clinical practice system, would contribute to accelerating a path to realize the vision, Innovation Ewha, Leading Global Excellence." In his following welcome remarks, President of the Medical Center Kim Seung Cheol said, "This new institution will represent a breakthrough for the Medical Center to establish itself as a medical herb in Northeastern Asia. When it is completed, it will create a new health care environment with standard ward featuring three beds per room and intensive care unit featuring one bed per room for the first time in Korea. Also the new center will adopt a quality disease control and prevention system to international standards, serving as an opportunity to transform Korea's medical practices.
Local residents of Gangseo-gu welcomed this move expecting a globally competitive medical center along with medical college in Magok district will help improve health and quality of life of community members and boost local economy with job creation.