Ewha Womans University held a mini musical concert for parents at Emerson Chapel on Friday afternoon, November 13, as part of its Ewha Sarang Program for parents designed for facilitating communication and mutual understanding between the University and parents. With the audience of 200 students and parents, the concert highlighted the program of Western and traditional Korean music works, followed by an official dinner.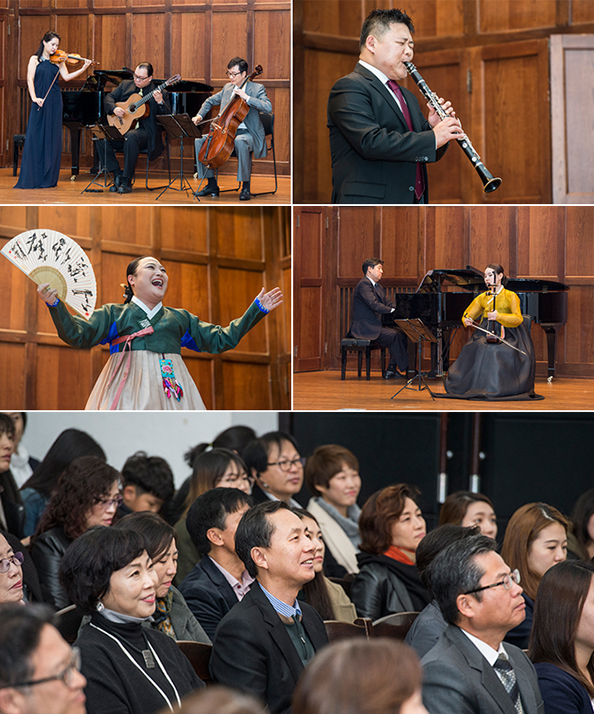 In the program featuring classical music, a trio, made up of a cellist and professor Bae Il-Hwan, a guitarist Seo Jeong-sil and a violinist Geenie Chung, presented Song From a Secret Garden by Secret Garden and Libertango by Astor Piazzolla. Also a professor at Korea Nazarene University, Lee Sang-Jae, known as a visually impaired clarinetist, and an organist and professor at Seoul Theological University, Kim Ji-Sung performed together Song of the Autumn by Tchaikovsky and It Ain't Necessarily So by George Gershwin.
The next stage started with traditional Korean music presented by Prof. Park Hyejin for the traditional Korean string instrument haegeum and Prof. Kim Ji-Sung for the piano. The duo thrilled the audience with high-spirited melodies of Korean folk songs, such as Hangangsu Taryeong (Han River Song), Miryang Arirang, and Gunbam Taryeong (Chestnut Song). Subsequently, Prof. Chae Soo-jung, a master of traditional Korean narrative song (pansori) offered her exiting performance. The concert ended with a song Sae Taryeong (Bird Song) presented by an ensemble of the guitar, violin, cello, haegeum, janggu (drum), and pansori involving all the performers and audience, who became one, united by the musical performance.