The Office of International Affairs held a presidential dinner for international students in the Lee Sam-bong Hall of the ECC building on Thursday afternoon, November 12th. The event was designed to support international students and strengthening a sense of belonging and the bond among them as Ewha students. Among the attendees were Malaysian, Canadian and Philippine ambassadors to Korea, ten alumnae working for embassies of their native countries, 30 faculty members, and 350 Ewha students.
The event started with an opening remark by Park Ihn-hwi, Vice President for Office of International Affairs, followed by a performance of a choir consisting of eight Ewha male professors. The choir presented "Growl" by EXO, K-pop band, and "Hallelujah to the Saints," drawing enthusiastic applause by the audience. In a congratulatory speech, Ewha President Choi Kyunghee encouraged the students, saying, "Your relentless effort in pursuing academic endeavors and overcoming difficulties today would shape up your future and become valuable assets for your life."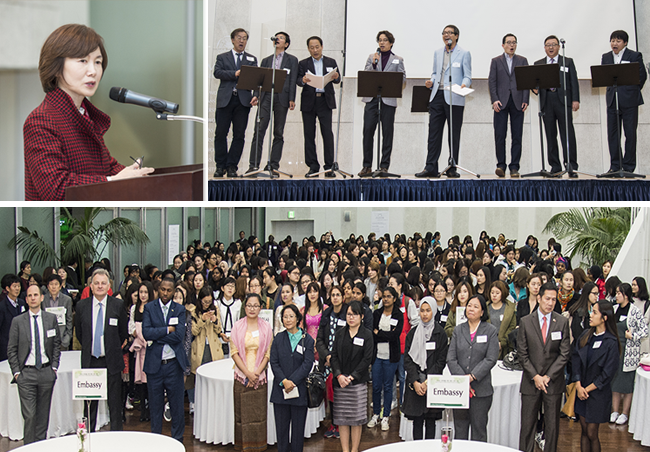 Before the dinner, an exhibition was arranged to allow the international students to share their culture and food in the ECC Multipurpose Hall. Students from eight counties including Taiwan, Malaysia, the United States, Vietnam, Japan, China, Cambodia and Thailand introduced their traditional clothes, crafts and food at their designated booths. Student mentors participating in Mentoring for International Students program and members of Online Ambassadors, a volunteer group promoting Ewha degree programs for international students online, also joined the event by running their own booths.