The Volunteer Team of the Office of Student Affairs held "Kimchi with Love" event with Ewha students and YG Entertainment artists at the Student Cafeteria on the second underground floor of the Human Ecology Building on Wednesday morning, November 11th. As part of "Beautiful World Made by Ewha" program that has been organized annually by the University for 15 years since 2001, the 2015 kimchi-sharing event was particularly supported by YG Entertainment covering all the expenses.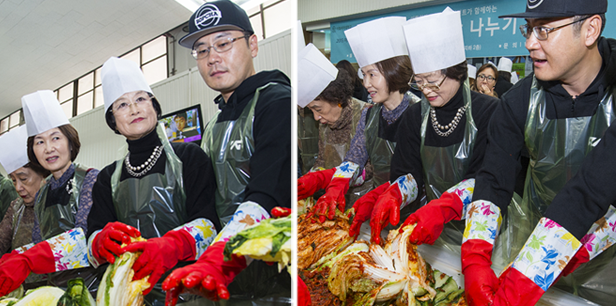 Ewha President Choi Kyunghee, President of Ewha Alumnae Association Kim Young-Joo, 220 Ewha students, 30 faculty members, 20 volunteers from the local community Seodamun-gu together with 80 people from YG Entertainment including CEO Yang Min-Suk, staff members, and entertainers participated in the event and made five tons of kimchi for the coming winter. The kimchi they had made was delivered to a total of 500 underprivileged households (10kg per household) such as single-parent and grandparent families, people with disability, beneficiaries of the assistance from the National Basic Livelihood Security System, people with rare, incurable diseases, and the elderly living alone.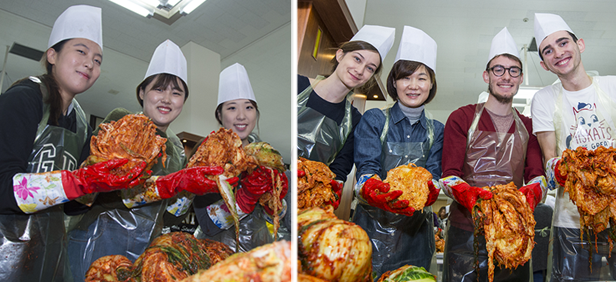 Many international students attending the University also lent a helping hand in the event, saying that it was a meaningful time to experience the Korean kimchi-making culture. Especially, the event this year became the center of attention as it was joined by the artists of YG Entertainment including singers Sean and Akdong Musician, and models. YG also brought its famous food truck "YG Bobcha" to the venue and offered volunteers boiled pork slices with fresh kimchi for lunch.