The Institute for Development and Human Security (IDHS) at Ewha Womans University held a workshop for the 2015 International Girls' Health "UN SDGs and Girls' Health" on November 11 at LG Convention Hall under the sponsorship from the Bill & Melinda Gates Foundation. SDGs refer to the Sustainable Development Goals that were adopted at the United Nations Sustainable Development Summit held last September.
The workshop was joined by Dean of Graduate School of International Studies and the head of the IDHS Kim Eun Mee, Vice President for Medical Affairs and President of Ewha Womans University Medical Center Kim Seung-choel, Director of the National Medical Center Ahn Myung-ok, the head of the Development Cooperation Bureau of the foreign ministry Lee Yong-soo, Vice President of Strategy and Planning at KOICA Kim In, Secretary General for Save the Children Korea Michelle Kim. Their participation made the discussion over girls' heath in developing countries all the more meaningful.

The keynote address was delivered by Kang Minah, a professor of Public Administration and the head of the Career Development Center, under the title of "Girls' Health in the Age of the UN SDGs," while IDHS researcher Lee Ji Eun delivered another keynote speech titled "Better Life for Girls Initiative and the Role of Korea." During the forum, high school and university students had the opportunity to discuss with experts on the topic of "After Ebola, Premature Pregnancies of Sierra Leonean Girls"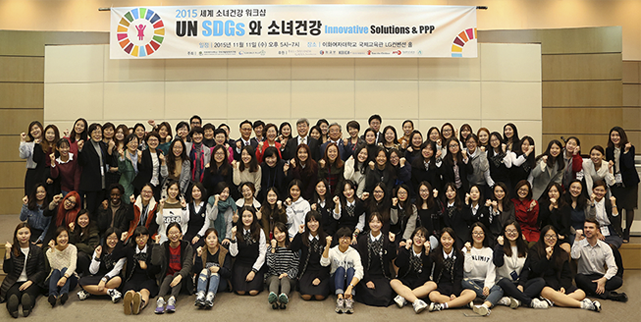 This workshop was meaningful as the first discussion in Korea on the topic of girls' health in developing countries, and as an opportunity for not only experts in the field of international development cooperation and health and medical service to voice their opinions, but also for high school, undergraduate and graduate students to do so as future leaders in the era of SDGs.