French President Francois Hollande, who made a state visit to Korea for the 2016 the France-Korea Year, visited Ewha on the morning of November 4.
President Hollande was welcomed by Ewha President Choi Kyunghee at ECC Square, and enjoyed a complimentary concert by students from the Department of Korean Music in the presence of Korean and French students at Ewha. Then he looked around the Ewha Campus Complex (ECC), Korea's largest underground campus structure, with the guidance of French architect Dominique Perrault, who built the ECC.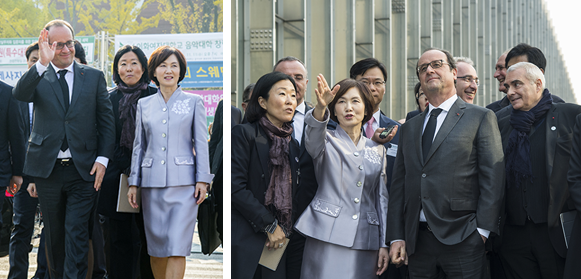 Along with President Choi, the French President participated in the high-level symposium titled "Climate and Green Growth" at Aryeong-dang (Home Management House) and said, "I was touched by Ewha's beauty and its influence that goes beyond Korea." He also urged member countries of the United Nations Climate Change Conference to provide more aggressive support by saying that "an additional 100 billion dollars is needed to help support developing and rising countries for the prevention of climate change by 2020."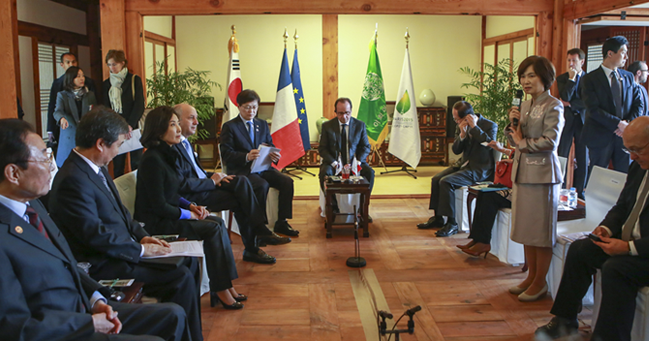 President Hollande visited the Ewha Campus in the wake of many important international guests including Queen Elizabeth II (1999) and Chancellor of Germany Angela Merkel (2010). His visit to Ewha is particularly meaningful in that it marks the first time for a French head of state to pay a visit to a Korean university since the establishment of ties between Korea and France in 1886.