The Asian Center for Women's Studies at Ewha Womans University and the International Monetary Fund (IMF) hosted a seminar sponsored by the Royal Norwegian Embassy under the title "Changed Roles of Women in the Global Labor Market" at the LG Convention Hall on October 27.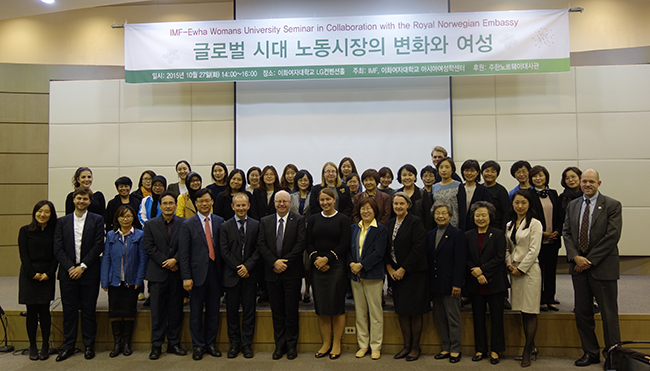 With a variety of experts in the fields of labor, women, economy, and education at home and abroad participating, the event provided an opportunity to explore changes in the female work force and environment under the dramatically transforming structure of the global labor market. Participants reviewed structural changes of the Korean labor market and other related women's issues.
Chang Pilwha, Director of the Asian Center for Women's Studies, pointed out that "Korea has failed to prepare various social safety nets as fast as its female population enters into the labor market." Deputy Minister of Foreign Affairs in Norway, Morten Høglund said, "Policies on gender equality helped promote gender equality in the labor market in Norway."
Later on, Naoko Miake, an economist from the Regional Office for Asia and the Pacific at the IMF, delivered the keynote speech titled, "What Can Boost Female Labor Force Participation in Asia?" Moreover panel presentations provided time for studying various issues women face in the domestic and international labor markets and seek practical measures and policies to raise women's participation and deliver structural reform that promotes gender equality in the labor market.