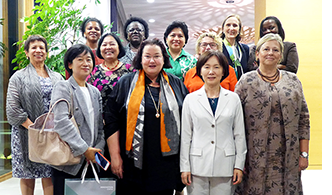 President Choi participated with 10 members of the meeting, 'Association of Woman Ambassadors in Korea,' which was held on August 4th at the Embassy of New Zealand, located in Yongsan. They discussed methods of elevating relationships between Ewha and respective countries.
From 2011, Woman Ambassadors in Korea consistently gathered for meetings in order to promote their collaboration and close friendship. They invited President Choi as a Guest of Honor to this particular meeting where they seeked various opportunities to broaden the partnership with Ewha. The Ambassadors of Ghana, South Africa, New Zealand, Dominican Republic, Rwanda, Malaysia, Bolivia, Island, Austria, Uruguay also were in attendance.
President Choi promised to further develop their exchange programs and cooperative efforts with both Aingeal O'Donoghue, the Ambassador of Island and Clare Fearnley, the Ambassador of New Zealand. She introduced EGPP, EGEP, and Ewha-KOICA programs, which are some of Ewha's global education systems, and also encouraged the ambassadors to help students from each country to participate in these programs.