[Culture] Meeting with Ewha Alumna Kim Su-jin, Representative Director of Bidangil Pictures
South Korea's first space science fiction film Space Sweepers was released around the world through Netflix. Immediately after its release, the film gained significant attention by setting a new record of reaching the top of Netflix charts in 28 countries. Today's Ewha DNA shares the story of Kim Su-jin (graduating class of 1989, Department of German Language and Literature), who is the representative director of Bidangil Pictures, the production company behind Space Sweepers.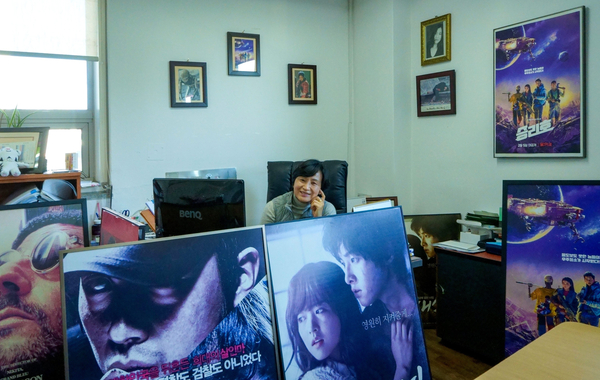 Photo by Hakbo(Ewha Media Center)
Q. Congratulations on the successful release of Space Sweepers. How do you feel about the film's reputation as "Korea's first space sci-fi film?"
I've always wondered "Why can't we make films set in space?", so I was working on a few space film scenarios since 2006, after I came back from the U.S. Just like The Chaser, which began with the idea of "Why can't we have a thriller that gives away the killer's identity early on?", I was once again starting from a somewhat unrealistic determination and resolve, where I was asking myself "Why can't we make a space film in Korea?" So, while I was developing film scenarios set in space, I first met film director Jo Sung-hee ten years ago in 2009 and we started developing a story about people collecting debris in space, which is the basic plot of Space Sweepers. If the technical limitations of computer graphics constituted half the problem in making space films in Korea at the time, the other half of the problem seemed to be the absence of imagination and a problem of limited perception, where people voiced their doubt, "How could anyone make a space film in Korea?" It took a decade to break this mold and bring this project to life. As our cinematic imagination and technology became more advanced, Space Sweepers was made possible through our tireless efforts to seek out something uniquely Korean and creative that could only be made in Korea, which would set it apart from Hollywood productions.
Q. We heard that you were a member of the filmmaking club "Noue" during your time at Ewha. This experience seems to have had a significant influence on your career as a filmmaker. Was there a particular aspect that affected you the most?
I was desperate to make films ever since I was a kid! Until high school, I truly enjoyed watching movies like E.T. and Raiders of the Lost Ark. They were so fun. Then I came to college and I discovered a different kind of joy in working with other members using equipment like 8mm camcorders and studying films through Noue. At the time, society's desire for democratization was greater than ever, which drove me to study the social sciences closely as well. As we studied and did club activities together at school almost every day, we found ourselves having so much fun as a community. I also enjoyed the process of creating something based on a sense of solidarity with other girls at Ewha. We made films about women with the aim to take ownership in creatively expressing our own thoughts based on our identity, and we also held the first "Women's Film Festival" during the May Festival when I was a junior. In the past, I'd simply thought, "Wow! Films are fun!", whereas my experiences since junior year served as a greater inspiration as I came to experience women's solidarity and express certain beliefs or ideals through the medium of film. I think that might have been the biggest turning point of my life.
Q. When do you feel most rewarded as a filmmaker?
I always feel rewarded. But I also have regrets and I always think about things that I could've done better or differently. I guess now is the happiest time of my life. Although it's a difficult time for many people around the world due to the COVID-19 pandemic, I feel that my dream has come true. As a teenager, I often wondered about questions like "What is space?", "Where does life come from?", and "Are there other living creatures in space other than humans?", after I read Carl Sagan's book Cosmos. I even dreamed of going into space myself one day. And, as we all did in our generation, I watched space sci-fi films like Terminator, Alien, and E.T., wondering why we couldn't make films like those in Korea. Now, not only have I achieved my longtime dream of making Korea's first space sci-fi film, the film has set the record of reaching the top of Netflix charts in 28 countries, and it is also receiving positive responses from audiences and critics. So, I think now is the most rewarding moment of my career.
Q. You've consistently taken on the challenge of making films with novel plots, such as Forbidden Quest, The Chaser, The Scam, and A Werewolf Boy. Is there a kind of unique identity that you'd like Bidangil Pictures to develop?
Many of the films created by Bidangil Pictures to date started with a single log line or a keyword. In other words, since Bidangil mostly develops "original" stories to be made as films, the process takes longer. Although this gives the advantage of being original and unique, our filmmaking process is inevitably slower and more difficult than adapting webtoons or novels. In particular, for Space Sweepers, it took such a long time as we had to create everything, including the world-building, characters, preceding events, and aftermath of the story, from scratch over the course of ten years. It's not that I've never considered adapting or remaking other original works. However, I think that our constant efforts to create something original allow us to keep making films with excellent writers, directors, actors and actresses under the name of Bidangil Pictures. Simply put, originals are more fun and we take pride in creating them.
Q. What is your definition of the Ewha DNA?
Ewhaians are independent and adventurous. It's not something I realized at the time when I was at Ewha, but rather something that I'm feeling more deeply as I get older. Things like women's solidarity, but also working independently from start to finish. We are challenging and driven. There is an old saying, "To be more interested in the food offerings than the ritual itself" (meaning that one is only looking out for one's personal interests). But this doesn't apply to Ewhaians, as our DNA drives us to focus on the work itself without pursuing ulterior motives. It's a principle that I've stayed true to ever since coming to Ewha, so I didn't realize that it was something special. Looking back, it was the Ewha DNA all along.
- Source: Ewha Today