Jungeun Song from the Physics Department Became a Fellow for Research Subsidies for Ph.D. Candidates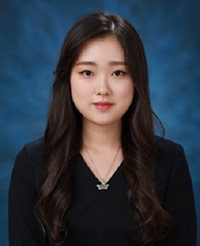 Jungeun Song, a Ph.D. candidate at the Department of Physics (Advisor: Dong-Wook Kim), became a fellow for Research Subsidies for Ph.D. Candidates. She will receive a research subsidy of twenty million won for a year and research the Impact of Plasmon Metal Nanowire Electrodes on Generating and Capturing Photovoltaic Charges in TMD Materials.
Research Subsidies for Ph.D. Candidates is a Fostering the Next Generation of Researchers project of the National Research Foundation of Korea. The project supports creative and challenging ideas related to doctoral dissertation research by Ph.D. candidates (including joint master's-and-doctoral program students and those who have completed a doctoral program) and fosters next-generation researchers to support basic research in science and engineering.
Since starting her master's studies at Ewha in 2019, Jungeun Song has carried out research for using physical properties between metal and TMD, a semiconductive material, as elements for semiconductors. While doing her research, she published fifteen papers in SCI-level journals, gave about twenty presentations at academic conferences at home and abroad, and won four best awards. Notably, she received the Best Presentation Award at the 2023 KPS Spring Meeting with her Presentation on Plasmonic Effects of Top Electrodes in ZnO-coated Silver Nanowire on P–n-junction-material-based Transparent Photovoltaic Cells.