Ju Hyeon Lee of Political Science & International Relations Department, Selected for 'The 6th Seoul's Honorary Mayor'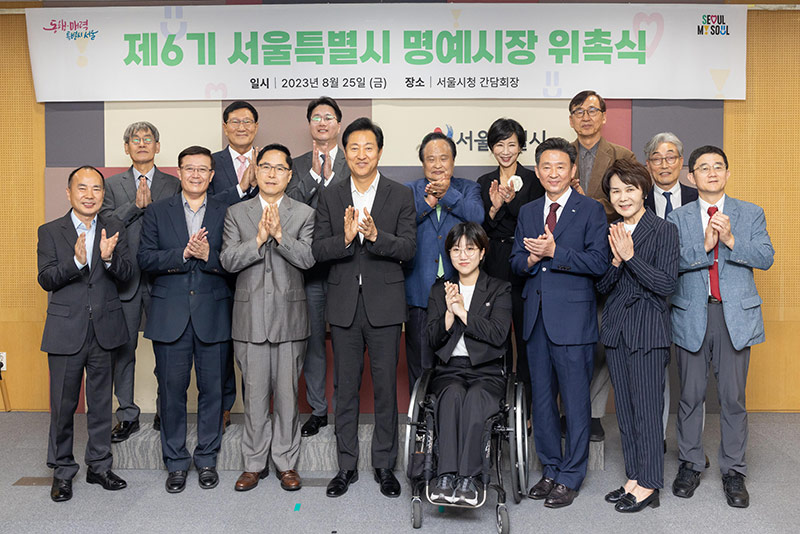 (The fourth on the right in the front line) Ju Hyeon Lee
Ju Hyeon Lee, who entered the Department of Political Science & International Relations in 2020, was delegated as 'The 6th Seoul's Honorary Mayor' by the city of Seoul on August 25th.
In order to actively represent citizens' raw opinions in administration, 'Seoul's Honorary Mayor' system has been operated since 2016. It is selected through open recuitment out of people who have influence and expertise in various areas.
This year, 80 people recommended by citizens and related divisions were the first candidates. Out of these, the 'Honorary Mayor Judging Committee' conducted a just examination and selected 16 people for 16 areas: house‧architecture and city planning, small business, culture, tourism, transportation, environment, the disabled, etc.
Ju Hyeon Lee was selected as honorary mayor for the area of the disabled. Though becoming disabled on the lower half of the body in senior year of high school, Lee did not succumb to it and worked hard at both exercising and preparing for the college entrance exam. She received much attention after winning the bronze medal in the 'Cybathlon 2020 Global Edition' and entering Ewha's Department of Political Science & International Relations. Lee said, "As honorary mayor in the disabled area, I will make known the process and struggles of disabled youths as they enter society, and make an effort to be of help in establishing necessary on-site policies for disabled youths."