Kim Yu-na, Lee Yu-rim, and Cha Jin-ah Winning the Grand Prize at the "2022 Legislative and Policy Proposal Competition"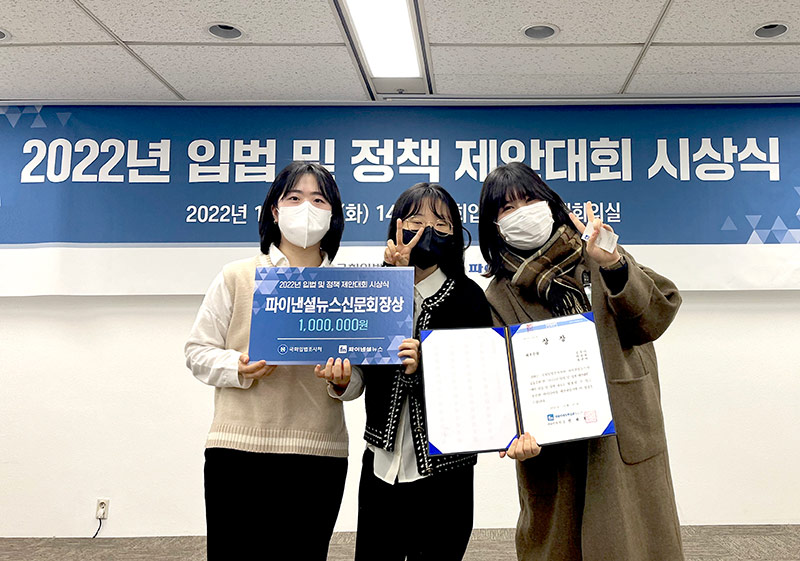 (From the left) Lee Yurim, Cha Jinah, Kim Yuna
Kim Yu-na (Administration, the Class of 2024), Lee Yoo-rim (Administration, the Class of 2024), and Cha Jin-ah (History, the Class of 2022) won the grand prize at the "2022 Legislative and Policy Proposal Competition" co-hosted by Financial News and the National Assembly Research Service.
The "2022 Legislative and Policy Proposal Competition" is a competition designed to improve the quality of people's lives by receiving various policy ideas from the general public and reflecting them in legislative bills or government policies. A total of 158 proposals were received this year.
Ewha student team proposed the "Medical Guard Act," which established a specific concept of medical care, and won 1 million won for the Financial News Newspaper President's Award. The "Medical Guard Act" is a system that unifies the terms of patient guardians and legal representatives as "medical guardians" and allows individuals to designate desired representatives in medical activities. In the process of surveying data to prepare legislative proposal policy ideas for single-person households, the team recognized that families that are not a universal family type have similar problems with parental designation and proposed policies to embrace various families. Cha Jin-ah said, "I hope our team's legislative proposal will serve as an opportunity to guarantee the 'right to have guardians' of individual patients and members of Korean society beyond the existing universality and customs."
A total of 13 award-winning works selected for the competition will be distributed to lawmakers of the ruling and opposition parties, local governments and local councils, and will be actively used to propose bills and establish policies.