Center for Multiculture Research Holds the Intercultural Dialogue
Ewha Center for Multiculture Research (Director: Prof. Han Up Jang) held the "10th Intercultural Dialogue: Myanmar" and "11th Intercultural Dialogue: China" at Ewha Womans University at 5 PM on June 2 (Thu) and September 30 (Fri). The event has been suspended since 2020 due to the pandemic and resumed after two years.
The center held the 2nd Vietnamese dialogue and the 3rd Kazakh dialogue in 2018, starting with the 1st Intercultural Dialogue: Malaysia. Co-hosted by the International Office and the Center for Multicultural Research, from the 4th Intercultural Dialogue in 2019, international students from China, North Korea, Hong Kong, Brazil, India, and the Montenegro Republic had a meaningful meeting and exchange with Ewha students.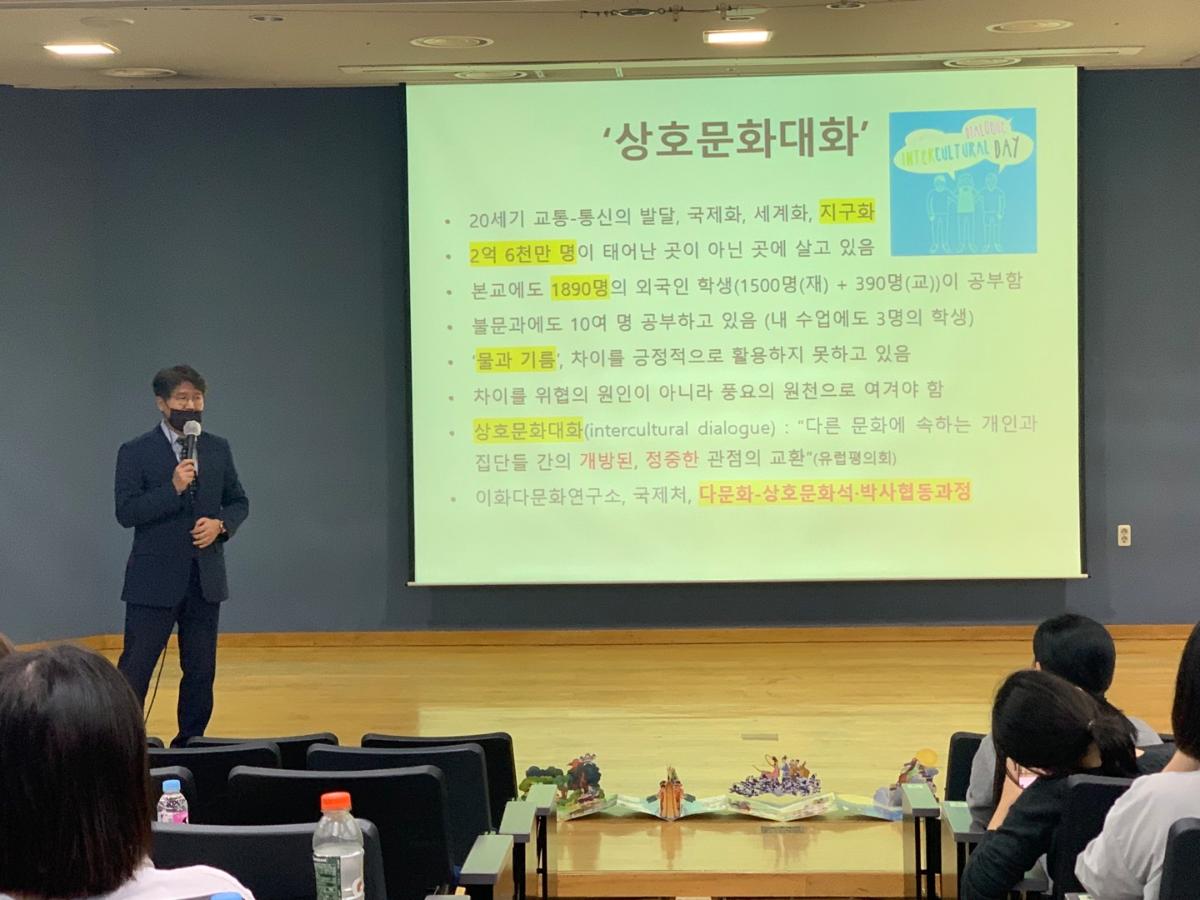 Director Han Up Jang explaining the Intercultural Dialogue
Director Han Up Jang explained that "Intercultural dialogue is a process in which individuals and groups with different cultural and linguistic backgrounds and traditions conduct open and polite exchanges of opinions based on mutual understanding and respect," adding, "Some foreign students studying in Ewha feel psychological pain due to neglect and discrimination by Korean students. To prevent this, intercultural dialogue is a must to develop mutual cultural understanding." He also stressed, "Exchanging experiences of college life in Korea and foreign countries can bring diverse perspectives to the Ewha campus."

Mya Hnin Yee Shein, the speaker | Director Han Up, Q&A session
The speaker of the 10th Intercultural Dialogue: Myanmar held on June 2 which was Mya Hnin Yee Shein, a master's student in the Department of Communication Media at Ewha Womans University. Mya Hnin Yee Shein shared her college life in Myanmar and Ewha Womans University and the situation in her home country regarding the Myanmar crisis.

Yang Xue, the speaker | Director Han Up, Q&A session
The speaker of the 11th Intercultural Dialogue: China held on September 30 was Yang, Xue, a Ph.D. student in the multicultural-intercultural interdisciplinary program at Ewha Womans University. Yang, Xue shared her college life in China and her experience of studying abroad in Korea with the participants, and had time to understand each other with Ewha students through the Q&A session. Director Jang Han-up mentioned, "Having time to exchange opinions on differences and commonalities at the end of the Intercultural Dialogue is precious. We should have more opportunities to learn from each other."