Social Economy Major, Holds the Third 2021 Ewha Social Economy Entrepreneurship Academy 'Hackathon' through Metaverse
Last October 7th (Thursday), a Hackathon session was conducted as an interim inspection process at the 2021 Ewha Social Economy Entrepreneurship Academy (Lead by Professor So-hyun Lee) hosted by the Social Economy Major(SEM) of Graduate School. Ewha Social Economy Entrepreneurship Academy (hereinafter referred to as the Academy), which marks its third anniversary this year, was designed to provide undergraduate and graduate students with opportunities to strengthen their understanding of the start-up process and start-up capabilities through systematic entrepreneurship education, mentoring, and hackathon sessions. In particular, Hackathon was prepared as a time to take a step closer to starting-up a business by developing and checking students' ideas during the academy course.
This year's hackathon was held virtually through the Metaverse (Gather Town) platform. Metaverse is a form in which participants could participate through avatars in virtual spaces, and is used for many virtual events recently as they can experience a sense of immersion similar to in-person events. Students, who had long been thirsty for in-person classes, said, "I felt more immersed than other platforms because it felt like I was actually in the field," and "I felt like I was meeting at a small group meeting zone for each team in real life. It is my first time using Gathertown, but it was fun and easy to participate."

The Entrepreneurship Academy Hackathon event
implemented as a Metaverse (Gather Town) (left) and group presentation (right)
Hackathon's first session was a small group meeting by team, through which students had time to develop group items for interim inspections. In the second session, CEO Hang-seok Kim(Dream Sharing, Social Cooperative) gave a useful lecture that was practically helpful to students dreaming of starting a business by sharing his own start-up challenges and failure experiences under the title of "Adventure is the answer - Surviving the Social Economy World". The third session was organized as a venue for mutual feedback after presenting proposals that each team had prepared during the academy through idea pitching for seven minutes per team. Finally, Professor Sang-mi Cho (Head of SEM/ Director of the Department of Social Welfare) gave her second special lecture on the theme of "Social Value, Role of Social Economy in the ESG Era". She sent a meaningful message to students preparing to start a Social Economy Enterprise after giving a lecture on concepts and examples of social economy and ESG, suggesting the direction in which the social economy should move forward.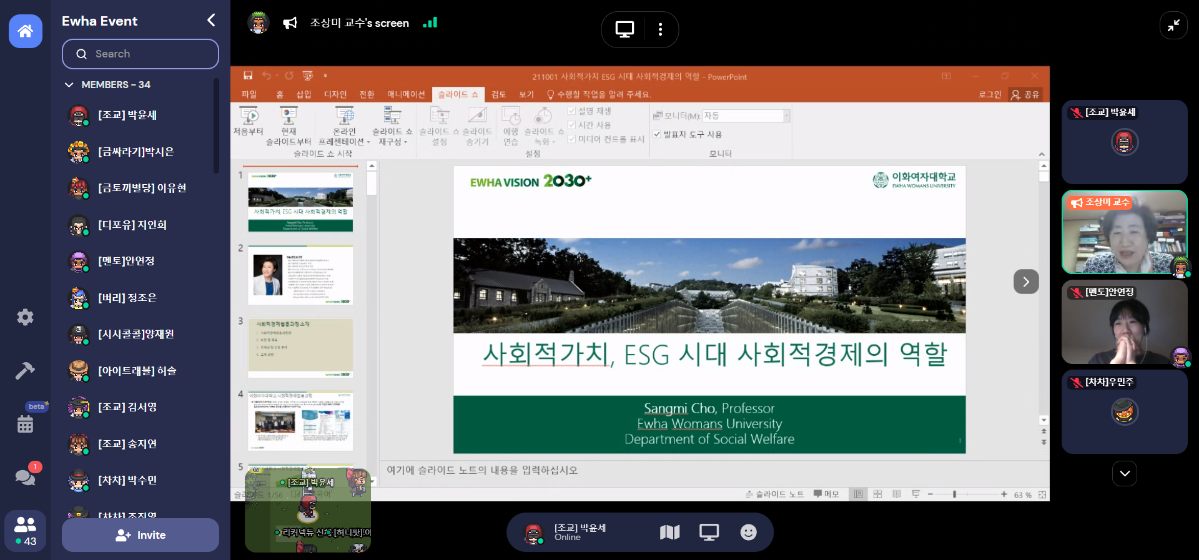 Students participating in Professor Sang-mi Cho's lecture through Metaverse (Gather Town) Platform
The 2021 Ewha Social Economy Entrepreneurship Academy will be held for 10 sessions in total. In addition, the academy was customized in various ways with programs such as ▲ 4 common education sessions, ▲ 4 one-on-one mentoring sessions, ▲ hackathon and competition contests. In particular, a total of five teams will be awarded certificates, prize money, and prizes at the last performance presentation on November 25. The five final teams will be consisted of: 1 team for the President of Ewha Womans University (Grand Prize), 1 team for Shinhan Bank President Award (Social Value Award), 1 team for the Chairman of the Merry Year Foundation Award (Social Challenge Award), 1 team for the President of the Korea Social Enterprise Promotion Agency Award (Social Innovation Award), and 1 team for the President of Ewha Womans University Entrepreneur Center Award (Creativity Award). These teams will be given tickets to be advanced to the GSIC (Global Social Innovation Challenge) finals.