Ewha evaluated with "Best" Grade in 2021 Educational Welfare Support for Disabled Students
On the occasion of the 41st Disabled Person's Day, Ewha was selected as the best university in the Evaluation of Educational Welfare Support for Disabled Students by the Ministry of Education. The school received an Institutional Commendation from the Deputy Prime Minister and Minister of Education. The evaluation is held every three years since 2005. As a result, the school has been selected as the best university for five consecutive times in 2008, 2011, 2014, 2017, and 2020 in the Ministry of Education's "Evaluation of Educational Welfare Support for Disabled Students''.
The school has been operating various programs to encourage disabled students to participate in active roles under the goal of "Cultivating Creative Leadership of Women Students with Disabilities." Also, Ewha has been supporting human rights-friendly, disability-friendly, and women-friendly educational environments such as organizations with experts, and personalized learning systems. In addition, despite the geographical limitations of historic buildings with huge values and campuses located on hills, the school aims to supplement school facilities through continuous improvements. Last but not least, Ewha's excellent teaching and learning support systems were highly praised to be applied to other schools.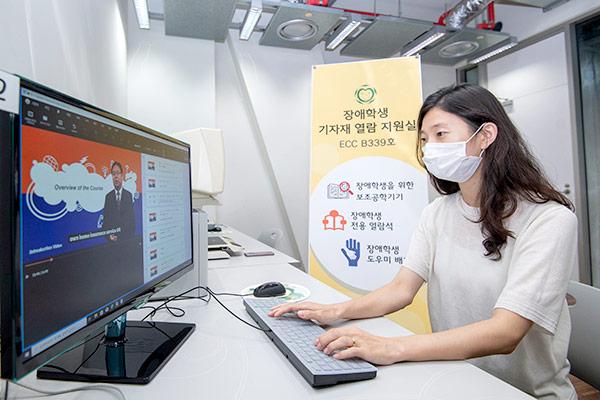 A student helper at the Support Center for Students with Disabilities is writing subtitles for online class lectures
Since its establishment in 2008, the Support Center for Students with Disabilities has operated various programs such as supporting class assistants or helpers, learning devices, priority assignment of dormitories, scholarships, and psychological counseling programs for disabled students.
Furthermore, there are more events and programs to improve awareness of disabilities and cultivate a campus culture that understands the minorities. The school is conducting Education in Improving Awareness of Disability, Barrier-Free campaigns and more. Also, the school held a Beautiful Concert this year for students to have a therapeutic time in COVID-19 era and create various cultural contents with the disabled students from the Beautiful Mind Charity. <Beautiful Concert with Ewha> is available on Ewha Women's University's official YouTube channel (https://youtu.be/PYEf-xVaQ7o).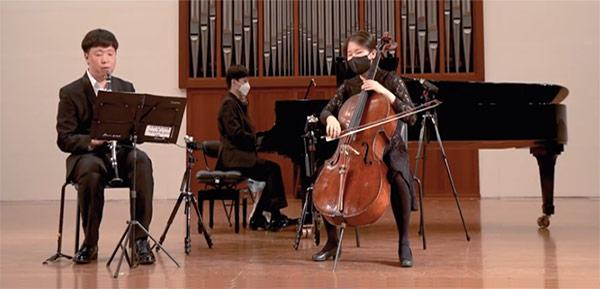 <Beautiful Concert with Ewha>