The University holds a real-time online training session "Learning Center for Overseas Korean Experts in 2020" with the
The "Learning Center for Overseas Korean Language Experts in 2020", hosted by the Korea Culture Research Institute (President Hae-Young Lee), announced its start on August 18th with a congratulatory remark by Vice President Sang-Seok Choi of the University. The "Learning Center for Overseas Korean Experts" is an annual training program to strengthen the research and education capabilities of Korean language experts that is hosted by the National Institute of the Korean Language (Director Gang-chun So). In 2020, 14 foreign university' teaching staffs from 8 countries will participate.

The "Learning Center for Overseas Korean Experts in 2020" is held for a total of 6 weeks from August 18th to September 25th, as two courses to explore the area of expertise as a Korean language education expert. Through this training session which is composed of the joint training programs for master's and doctoral levels (weeks 1-3) and professional training programs for doctoral levels (weeks 4-6), participants will lay the foundation for becoming an educator and researcher who can contribute to the development of local Korean language education while establishing a network and strengthening knowledge sharing.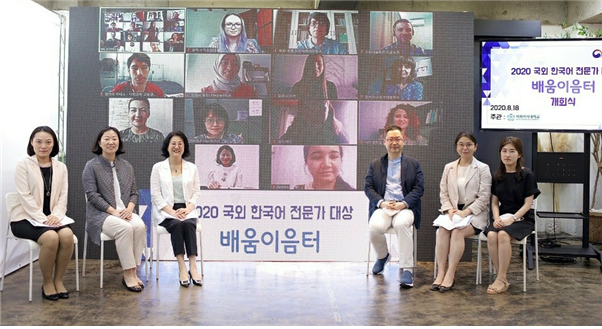 This year, due to Covid-19, the training sessions will be held as remote lectures and real-time online methods. It is expected that it will be a meaningful attempt to overcome the physical limitations of space by carrying out most of the programs that were conducted offline.
Following the opening ceremony, participants had in-depth conversations about their interests and topics in Korean language education through a round-table conference with the supervisors. With the stories of foreign Korean language experts gathered with passion for Korean language education from around the world, the participants had a meaningful time to think about the current status and development plan of overseas Korean language education.

The director of the Korean Culture Research Institute, Hae-young Lee (Professor of the Department of Korean Studies at the Graduate School of International Studies), expressed that the training will give foreign experts a new perspective on Korean language education and Korean culture. She added, "We are expected to learn how to adapt to the new educational environment where non-face-to-face has become daily in the New Normal era."