Ewha Research Center for Hazard Literacy Education, Signed a Business Agreement with Mine Reclamation Corporation(MIRECO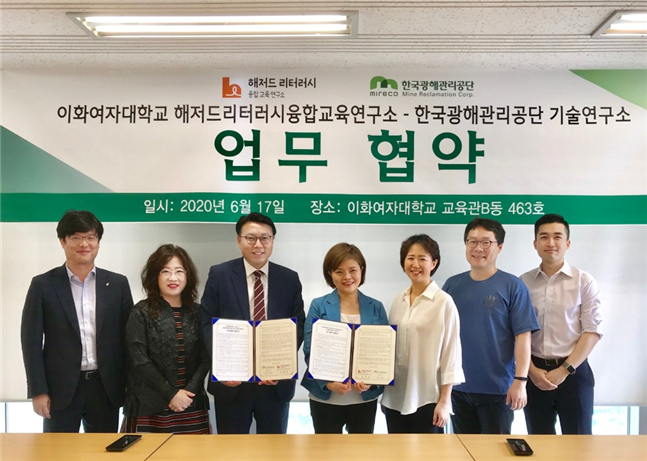 On 17th of June, Ewha Research Center for Hazard Literacy Education (Director : Donghee Shin) and technical research institute of Mine Reclamation Corporation(MIRECO) (director : Injae Yang) signed an agreement to promote joint projects and research development. This is to enhance understanding of disasters among elementary and middle school students and citizens in response to the need for education to prepare for surging natural disasters.
Center for Hazard Literacy Education, affiliated with the college of education, was established on 1st of May to pay attention to the need for education to prevent and prescribe various disasters fundamentally and effectively for future generations. MIRECO is an organization under the Ministry of Trade, Industry and Energy under the purpose of conducting various research and bringing technological development for a sustainable environment, including disposal of abandoned mines, restoration of soil pollution, ground stability, forest restoration and development of anti-mining technologies.
By signing the agreement, the two organizations agreed to cooperate in various fields, including conducting joint research on environmental restoration and disaster-related issues, exchanges on human resources, conducting student internship programs and exploring institutions, carrying out joint academic conferences, special lectures and seminars on sharing research results. "This agreement is expected to serve as an opportunity to lead the role of Korea's first research institute for disaster and disaster education. Also, through this chance, we will be able to develop various field-based education programs by actively utilizing the infrastructure of both institutions," said Dr. Shin, director of the institute.