Center for Multiculture Research Signs Agreement with WECA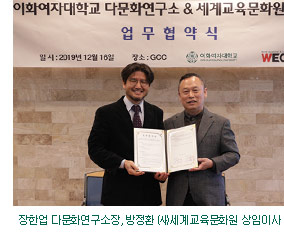 The Center for Multiculture Research (Director: Jang Han Up) signed a business agreement with the World Education Cultural Association (WECA) on December 16, 2019 to cooperate in cultural and educational fields by promoting multicultural and intercultural projects and hosting domestic and international academic debates and seminars, etc.
WECA, an NGO affiliated with the Seoul Metropolitan Office of Education, has carried out various projects in 30 countries around the world to cultivate talent and enhance independent-mindedness in the world's most impoverished countries through educational and cultural aid.
The Center for Multiculture Research at Ewha Womans University was established in 2008 with the aim of promoting cultural rights in line with the multicultural era and contributing to strategically building a community that values multiculturalism. It has got involved in a variety of projects, including education for professionals to lead the 21st century multicultural society in Korea, research on the policy for social integration, the Korean language education for immigrants and development of educational programs to cultivate multicultural citizens.