Sharing as Not Only Thankful Gift, but Also Gift of Appreciation(Professor Emeritus Sun-sook Noh, Mathematics Education)
Professor Emeritus Sun-sook Noh, Mathematics Education
Professor Emeritus Sun-sook Noh (Mathematics, graduating class of 1979) provided Ewha and its members with gifts through her sharing and dedication from the moment she was appointed as a professor in Mathematics Education for the College of Education in 1995 to the day she finished her career in February 2022. In celebration of her retirement, Professor Noh was appointed as a member of the Ewha Honors Club consisting of major donors who have contributed more than KRW 100 million to the university for its development. She expressed her usual beliefs that "all" university students are in desperate need of continued help of any kind and warm encouragement regardless of time and place.
Regarding the question about the basis of her sharing and dedication, Professor Noh replied with a letter full of love for Ewha and its students.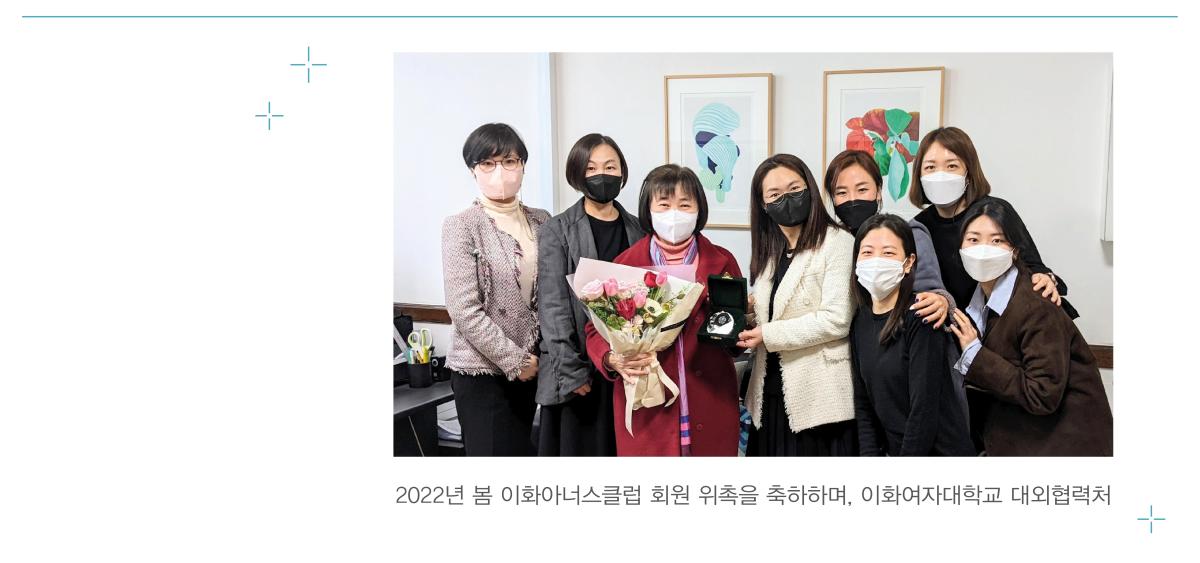 Sharing as Thankful Gift
My career as an educator started from an unexpected scholarship that I received in my freshman year in college. And subsequent receipt of a T.A. scholarship during my master's degree course gave me passion and courage for academic exploration. The news of granting a T.A. scholarship when I applied for a doctoral course for Mathematics at Purdue University in 1982 was a thankful gift of opportunity that allowed me to experience a delightful teaching career with college students for a long period.
Gift of Appreciation and Joy of Sharing
Appreciation produces a virtuous circle of another gift of appreciation. I believe scholarship, a support that can be benefitted only during school days, motivates students to apply themselves in their study, gives courage to challenge out of hardship, and helps them experience reward and happiness by sharing enjoyment obtained in the process of making continuous and faithful efforts. Reflecting on my 47 years of career in receiving and providing education, I come to think that the basic duty of an educator is to share a thankful gift given to me with those in need as a gift of appreciation. Individual development should come before the development of the university, and again, the development of the university should be more prioritized than the development of society. Society should bear the responsibility of providing support for universities to fulfill their duties, while universities are obliged to make efforts to provide quality education for students.
All students educated at Ewha graduate with educational and social responsibilities to share their experiences and benefits enjoyed at Ewha with everyone who needs them. I hope and expect that students at Ewha work hard and think about the right to receive quality education, as well as the society and universities' responsibility to provide quality education, to become responsible next-generation leaders who generously share educational benefits received at Ewha with those in need.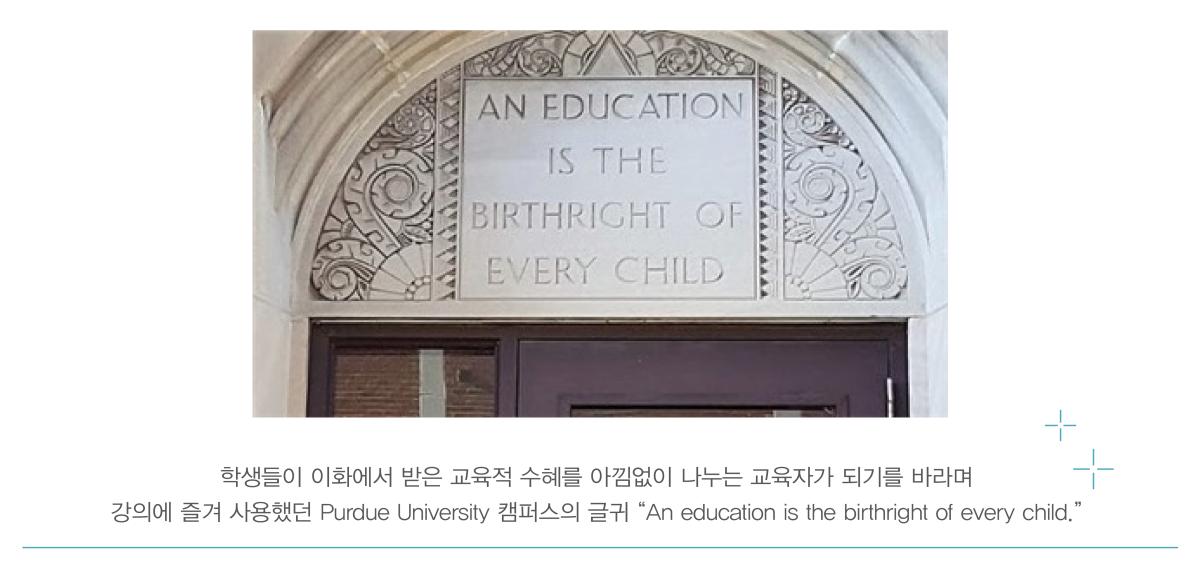 Message inscribed at Purdue University often quoted by Professor Noh during her lecture, hoping that students become educators who generously share educational benefits received at Ewha: An education is the birthright of every child.