What kind of father was Professor Jeon?
Jeon Heesong: He was a scholar by nature. He was lean, determined, yet very gentle. There still was a strong tradition of preferring sons back then, but my father only had us, two daughters, and loved and cared for us as if we were the whole world to him.
While I was looking for a reference for Professor Jeon before this interview, I stumbled on an interesting episode. On a day in the middle of the Korean War in 1952, "Ewha Night of Literature" was held at the refugee school building of Ewha in Busan, and hordes of people who wanted to drown their woes of war gathered there. That night, poet Yang Myeongmun recited his poem "Myeongtae (Pollock)," which later became a song loved by many, and three male students who were then studying education at the provisional Seoul National University nearby sneaked into the building through its tent without invitation and listened to the recitation in secret. What's interesting is that all three students later became professors at Ewha.
Jeon Heeyoung: (Laughs out loud) I know all of them. Professor Hwang Eung-Yeon (Department of Educational Psychology), Kim Jae-Eun (Department of Educational Psychology), and my father. Right? They must have audited that night to become a family of Ewha. (Laughs)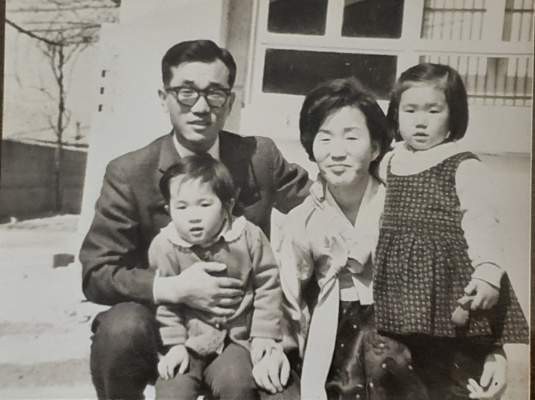 What does Ewha mean to you?
Jeon Heeyoung: I lived in a house at the foot of Bongwon Temple close to the back gate of Ewha, and went to Ewha Womans University Kindergarten and Ewha Womans University Elementary School. Although I studied medicine at the Catholic University of Korea, Ewha feels like a neighborhood playground where I feel at home. My family has a lot of happy memories at Ewha.
Jeon Heesong: I even went to Ewha medical school, so I am an Ewhain to the bone. I vividly remember when I was young, I used to walk out of my house to the main auditorium and watch Jesus Christ Superstar around the Christmas season. We took a lot of family photos in front of the main hall in blossoming spring and rode a sled a lot at the slope next to the main auditorium when snowing. There is a saying that a memory doesn't close its eyes. Ewha is always a place full of vivid memories with my father to me.