Professor Hyukjin Lee at the College of Pharmacy Selected for "Top 100 Excellent Achievements in National Research...
Professor Hyukjin Lee at the College of Pharmacy Selected for "Top 100 Excellent Achievements in National Research and Development" in 2022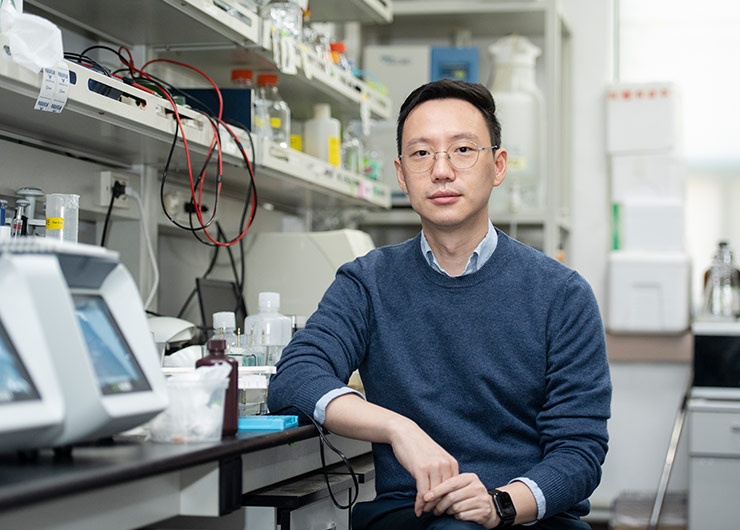 Professor Hyukjin Lee of the College of Pharmacy at Ewha Womans University was selected as one of the top 12 in the "100 Excellence Achievements in National Research and Development" promoted by the Ministry of Science and ICT in 2022.
"High-Efficiency Ribonucleic Acid (RNA) Drug Carrier Capable of Targeted Delivery to the Cell" developed by Professor Hyukjin Lee is a technology that enables lipid nanoparticles (LNPs) to effectively deliver messenger ribonucleic acid (mRNA) substances into the body to treat various infectious and incurable diseases, including COVID-19. Global pharmaceutical companies such as Pfizer and Moderna have created vaccines for COVID-19 using mRNA technology in the short space of a year, demonstrating the safety and efficacy of the technology across the globe.
Professor Lee succeeded in discovering ionizable lipids and commercializing LNPs for the first time in Korea, thereby securing a cell-targeting RNA drug delivery platform using LNPs that can be applied as mRNA vaccine carriers. The research results are expected to contribute to the development of RNA treatments and mRNA vaccines in the future and secure an mRNA-LNP platform that quickly responds to unknown diseases as well as existing infectious diseases. In addition, the findings of the study are highly significant in that it secured Korea's treatment sovereignty through the localization of the LNP platform.
Professor Lee won the Scientist and Engineer Award of the Month and the Young Investigator Award from the Lim Seong-gi Investigator Awards for his contribution toward developing a drug carrier that safely delivers mRNA drugs into the body. In addition, he has greatly contributed to the development of mRNA treatments for hemophilia and siRNA anticancer drugs through joint research and technology transfer with various companies and institutions, and continued to develop new drugs based on mRNA.
Meanwhile, the College of Pharmacy established the Center for Infectious Disease Treatment & Control with Professor Lee as the director of the project and was selected as a leading project group in the "Ewha Frontier 10-10 project." Under the slogan of "convergence pharmacology in response to infectious diseases in the post-COVID-19 era," the project group has been conducting the following studies: developing vaccines for infectious diseases; developing treatments for infectious diseases; evaluating the diagnosis, toxicity, and efficacy of treatments; researching the targets and mechanisms of infectious diseases; and addressing the entire cycle of infectious diseases including clinical analysis and statistical science. Upon the team's selection for the Excellent Achievements in National Research and Development, further spotlight has been directed to Ewha's efforts in intensively nurturing pioneering research fields with global competitiveness.