Ewha Establishes Ewha Safe Campus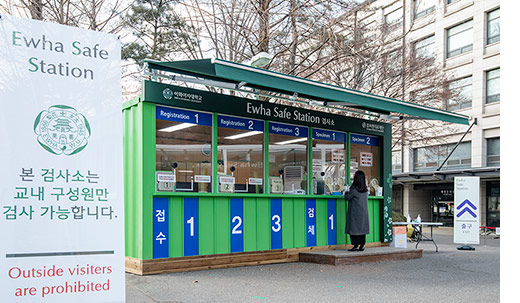 Ewha Establishes Ewha Safe Campus
Ewha installed the "Ehwa Safe Station," a testing clinic for COVID-19, next to the Student Union to prepare for the operation of full offline classes. It is a part of the "Ewha Safe Campus" system that was launched with the start of the semester in March to create a safe campus and any Ewha member visiting the campus can be preemptively and freely tested at any time.
Ewha has strived to build a safe campus with the "Preparatory Committee for the Return to Normality" by analyzing and responding to the situation, and began discussions in December last year on the establishment of the "Ewha Safe Campus" with the Seegene Medical Foundation, a company specializing in disease testing. The two organizations agreed that an educational institution should establish its own quarantine system to tackle the spread of the Omicron variant in order to prepare for the normalization of university education and establishment of a safe campus. Since then, they quickly sought cooperation with institutions inside and outside Ewha, such as Seodaemun Public Health Center, Ewha Medical Center and on-campus health centers.
Based on these preemptive efforts, Ewha and the Seegene Medical Foundation signed an endowment agreement on February 17 (Thu.) and 100,000 diagnosis reagent kits and all expenses necessary were donated upon the agreement. This allows Ewha to establish an infrastructure of "Ewha Safe Campus" where members of Ewha can access COVID-19 tests anytime.
Ewha Safe Station, installed next to the Student Union, began its pilot operation on February 22 (Tue.) for dormitory residents and related faculty members, and from February 23 (Wed.), full tests became available for all students and faculty members. Any members of Ewha can receive a free test at any time once a week and up to twice a week for the unvaccinated. After making a reservation via EUREKA, test recipients will conduct a self-test with guidance from a medical professional on site. After the test, the results will be notified via a text message or an app notification as early as the afternoon of the test day or the morning of the next day. Individuals who test positive will have the test result further confirmed through a PCR test conducted by experts at the same station, same as in regular screening clinics. Furthermore, for those confirmed positive, thorough follow-up measures will be taken, such as immediate notification to Seodaemun Public Health Center. (See the notice in the testing guide)
The establishment of a systematic and safe "Ewha Safe Campus" system equipped with a one-stop response capability is drawing attention as a leading model of COVID-19 safety management for universities. In addition, it is expected to create and promote a safe campus culture through preemptive and routine testing with the voluntary participation of Ewha members.