Ewha Holds Exhibition Titled "A Pioneer of Ewha, Dr. Esther Kim Pak" to Commemorate 120th Anniversary of Korea's First F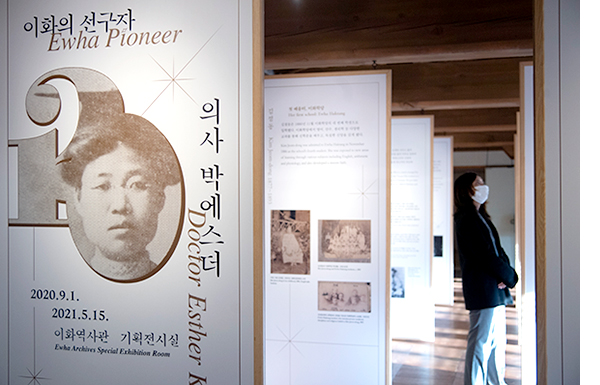 Amid the recent spotlight cast on the efforts of medical staff to overcome the COVID-19 pandemic, greater attention is similarly being directed towards the short yet meaningful life of Esther Kim Pak (1877-1910), who devoted herself to treating patients despite the harsh conditions that she faced in the Joseon Dynasty, more than 100 years ago. As this year marks the 120th anniversary of Esther Kim Pak's becoming the first female doctor in Korea, Ewha Archives is holding an exhibition titled "A Pioneer of Ewha, Dr. Esther Kim Park" until Saturday, May 15, 2021 to provide an opportunity to ruminate on Dr. Esther Kim Pak's life and her legacy in Korea's medical history.
Entering the Ewha Haktang as its fourth enrolled student in 1886, Esther Kim Pak first encountered the academic discipline of theology and discovered her faith, eventually receiving her Christian name Esther in 1891. She then traveled to study in the United States, and returned to Korea after earning her medical degree. At that time, hospitals in Joseon were full of women who suffered from being subjected to unreliable folk medicine and treatments, and Pak found herself as the sole Korean physician. She died at the age of 34 in 1910, after devoting her life to treating patients by day and night despite the lack of sufficient facilities and human resources. Dr. Esther Kim Pak was regarded as a symbol of women's education and medical activities during her time, and continued to be recognized today as a pioneer who made great strides in the history of Korean medicine, women, and Christianity by opening the door for women's medicine in Korea and practicing medicine with heartfelt sincerity.
This exhibition features a variety of photographs that offer a glimpse into Esther Kim Pak's life, including photos of Pak's school days, those taken with her husband Park Yeo-seon, and those taken while she was studying abroad at Woman's Medical College of Baltimore in the U.S. It also displays materials that show the history and tradition of medical science at Ewha, including Ewha's first physiology textbook, Lessons on the Human Body; a report written by Mary Scranton, founder of Ewha Haktang, to request the dispatch of doctors and teachers to Joseon; an article introducing Esther Kim Pak's medical activities after her return to Joseon; a photograph of the Nurse Training Center and nursing graduates at Po Goo Nyo Goan, which was founded in 1903 with Pak's contributions; and a photograph of Po Goo Nyo Goan, which has been restored and current stands inside Ewha Womans University Seoul Hospital.

Photo: Lessons on the Human Body, Korea's First Physiology Textbook / Po Goo Nyo Goan, Korea's First Hospital Exclusively for Women / Dr. Esther Kim Pak Studying Abroad