Ewha Holds Its 134th Anniversary Commemoration Ceremony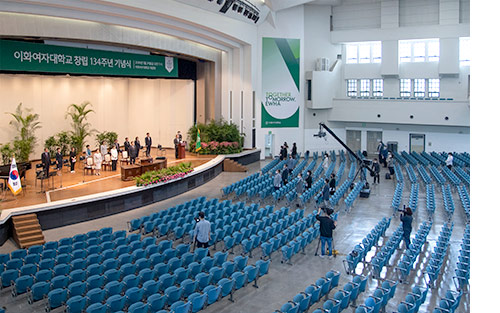 Ewha hosted its 134th anniversary commemoration ceremony at the Welch-Ryang Auditorium at 11 am on May 29. This year's ceremony was held without the audience except for a limited number of attendees including Chairperson Chang Myong-Sue of the Board of Trustees of Ewha Womans University, President Kim Heisook, University Chaplain Chang Yoon-jae, award presenters, and recipients due to the COVID-19 pandemic, and was live-streamed on YouTube.
President Kim shared its accomplishments over the last year such as the establishment of new TELOS tracks and AI Convergence Education major within the Graduate School of Education, and the first year's performance of Ewha Womans University Seoul Hospital. She also stressed the significance of "superlative education" and "differentiated and unique research", saying "By building a variety of private laboratory environments, all education in Ewha will be established as irreplaceable education. We will also put forth an effort to generate the new and alternative knowledge in all academic fields as a women's university, bearing in mind that the core of a research university lies upon being in the vanguard of knowledge production."
After Kim's speech, Lee Jinuk, a teacher at Attached Ewha Geumran High School, Professor Suk In Sun (Department of Law), and Kim Youngtae, the head of the department of General Affairs, received an official commendation for 30-, 20-, 10-years of continuous service at Ewha on behalf of 107 faculty members and staff. Also, the 18th Pride of Ewha Awards was presented to Choi Young-ae, the chairperson of the National Human Rights Commission of Korea and Choi Yeong-a, an internist of Seoul City Seobuk Hospital. "Pride of Ewha Awards" is a prize granted to Ewha alumnae or staff, who sets a good example of Ewha's spirit by serving the school for a long period of time or achieving outstanding accomplishments in various fields of society. This year, celebrating Ewha's 134th anniversary, the awards was given to Choi Young-ae and Choi Yeong-a, who have been committed to human rights and the socially disadvantaged, and have put Ewha's spirit of sharing and servicing into practice. Professor Wu Jeong-weon (Department of Physics) was honored with the "Ewha Academic Achievement Awards." The Ewha Academic Awards, marking its 16th anniversary this year, is given to faculty members once in their lifetime for their contributions to the development of study and the school with outstanding research achievements. The commemoration ceremony can be watched at http://www.youtube.com/ewhauniv.
Meanwhile, the Alumnae Association's Homecoming Day, which was conducted by Ewha Alumnae Association (President Nam Sang-taek) was also broadcasted online at https://bit.ly/ewhaalum. The event was held at the Welch-Ryang Auditorium at 2 pm at the same day in the order of "Alumnae Day Celebrations", "Alumnae reunion for the 50th and 30th anniversary of graduation", "2020 Pride of Ewha Award recipient" appointment, and "the 5th Light of Ewha Awards".