The "2019 Ewha-Harvard Summer School Program", in which Ewha and Harvard students jointly participated, completed its 5-week course.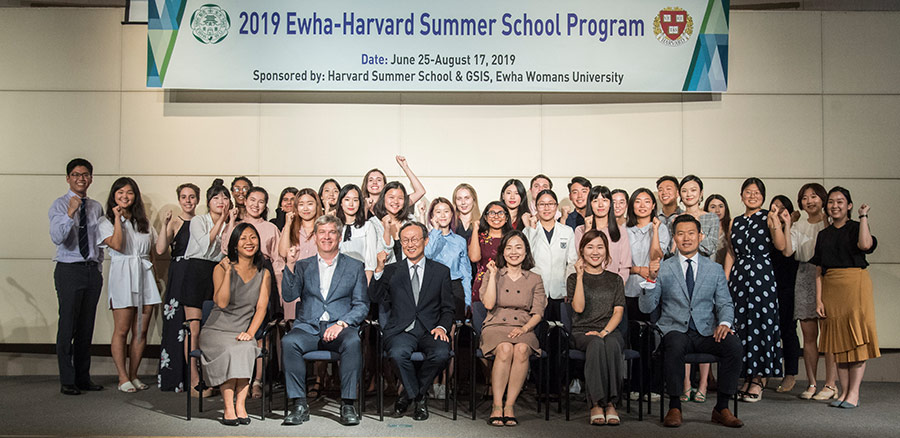 The "Ewha-Harvard Summer School Program" is co-hosted by the Graduate School of International Studies of Ewha Womans University and Harvard College. This is the only summer program that Harvard has co-organized with a Korean university and has been held at Ewha every summer since 2006. 26 participants in this program, commenced on June 25, included both Ewha and Harvard students, and they not only took lectures and Korean language courses but also went on field trips and an on-site survey to Jeju Island.
This year, lectures and team projects on North Korea's politics and international relations were conducted under the theme "Thinking Out of the Black Box: Exploring New Insights into North Korea." The participants experienced an in-depth summer program where they could not only learn lessons but also share way of life by taking part in a one-on-one language and culture exchange while living together in a dormitory during the session.

Barbara Batycka (sophomore, International Studies), an Ewha student who participated in the program this year, shared her experiences by saying, "I believe that the program allowed me to meet fellow students, both from Ewha and Harvard, who share my interest in North Korea. By being in a very competent and competitive environment, I broadened my horizons as well as grew academically. Furthermore, being able to work under Dr. John Park, a well-known expert in this field, has shown me an insight into North Korea that I previously have not possessed."
Professor Hi-Sun Kim (Department of East Asian Languages and Civilizations at Harvard University) who taught Korean language courses said, "It's been three years since I taught in the Ewha-Harvard program, and each year there are several cases where students who participated in the program changed their majors or careers to Korean Studies" She added, "I think the reason for such a change in a short period of time is that this program lets participants understand and discuss Korea from different perspectives with various backgrounds while taking classes with Korean university students."
Professor Kim Eun Mee (International Studies of Graduate School of International Studies at Ewha Womans University), a director of the Ewha-Harvard Summer Program, also emphasized by saying, "This joint summer school of Ewha and Harvard offers unique educational opportunities in which Harvard students can learn an insightful perspective on Korean and Ewha students view their own country from a global perspective."