The first Scranton-Ewha Leadership Program (SELP) designed to cultivate the next generation of women leaders in Asia was held at Ewha Womans University from July 22nd (Monday) to 28th (Sunday).
Ewha and the Scranton Women's Leadership Center (hereinafter, the Scranton Center) share the same historical roots centering around Mary F. Scranton who was the first female missionary in Korea and founded Ewha Haktang in 1886. The Scranton Center is the Korean office of the Women's Foreign Missionary Society (WFMS) of the Methodist Episcopal Church in the USA that sent Mary F. Scranton to Korea. The Scranton Center has provided scholarship programs for women in developing countries since 2007, and leadership programs for outstanding students selected from the Scranton scholarship holders since 2016.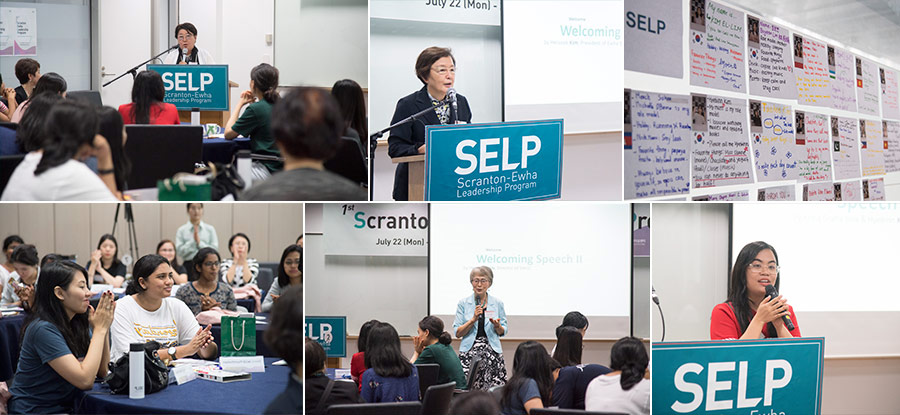 Upholding the same values, Ewha and the Scranton Center agreed to launch the Scranton-Ewha Leadership Program this year after having concluded a cooperation agreement in 2018. Under the common visions of providing well-rounded education to nurture leaders for Asia's future and establishing a network of Asian women leaders, Ewha and the Scranton Center recruited participants for the Program, and selected a total of 28 people from various Asian countries including Cambodia, India, Indonesia, Kazakhstan, Myanmar, Pakistan, Philippines and Vietnam as well as from Ewha through the contest.
The 28 participants took part in various education programs and field trips, which were planned under the four themes – Gender Empowerment, Understanding Multiculturalism, Social Awareness and Peace for a week from July 22nd (Monday). Through the Program, the participants developed their potential as female leaders, enhanced their sensitivity to culture, environment, and peace, and experienced systematic leadership training and global networking.
Aygul Djumanazarova from Uzbekistan said, "I've never imagined that I could go to high school and participate in this Program because I had to work at a cotton field. Although people around me tried to stop me, I kept on trying undauntedly." "I'll set up a women's leadership center like the Scranton Center in my country in the future to help more women to find opportunities," she added.

Ewha, which previously operated Ewha-KOICA Master's Program, Ewha Global Partnership Program (EGPP), and Ewha Global Empowerment Program (EGEP) to offer educational opportunities for women around the world, will use the Scranton-Ewha Leadership Program to extend educational opportunities that were given to Korean women in the past to women in other Asian countries. By doing so, Ewha will spread its founding spirit and contribute to local communities in Asia.