Mechanical and Biomedical Engineering Student Publish Article on SCI-Level International Journal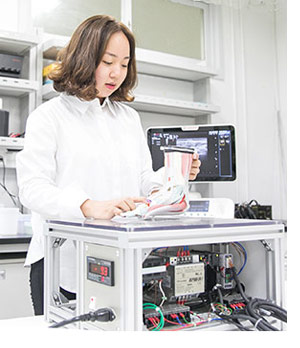 Yum Haeun, a student at the Mechanical and Biomedical Engineering Division of ELTEC College of Engineering published an article as the lead author on "Journal of the Mechanical Behavior of Biomedical Materials," a SCI-level international journal.
Yum's article, titled "Investigation of the relationship between localized cumulative stress and plantar tissue stiffness in healthy individuals using the in-vivo indentation technique" was based on the collaborated research between the ballet department of Ewha's College of Music and the Biomedical Engineering track from Mechanical and Biomedical Engineering Division of ELTEC College of Engineering. In her article, Yum compared and analyzed the characteristics of plantar tissues of a group of ballet dancers with those of a student group with the similar body mass index and age range. The study is significant in that it specifies the effect of prolonged and repetitive exercise into stiffening of the plantar soft tissue.
The Division of Mechanical and Biomedical Engineering at Ewha Womans University was established in 2017, and its students are already making results in a variety of fields. The division focuses on innovative convergence science such as the new bio-health field whose demand is surging around the world. It is aimed at nurturing women engineers to lead female-friendly, new industries of the future and performing integrated multidisciplinary education and research in the biomedical engineering in cooperation with the College of Engineering as well as College of Medicine, College of Pharmacy, College of Natural Sciences, the Brain and Cognitive Sciences and Ewha Womans University Medical Center.