The Career Development Center (Director: Jo Il-Hyun) co-hosted the "International Financial Institutions Career Fair" with the Ministry of Economy and Finance at the Lee Sam-bong Hall of the ECC building between November 19 and 20, 2018. A number of the world's leading financial institutions participated in this job fair, including the World Bank, International Monetary Fund, Inter-American Development Bank, Asian Development Bank, African Development Bank, European Bank for Reconstruction and Development, Asian Infrastructure Investment Bank, Organization for Economic Co-operation and Development, Green Climate Fund, and Global Green Growth Institute.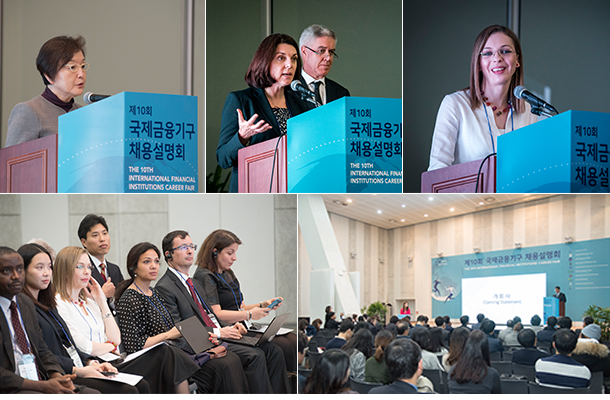 At the opening ceremony held on the first day of the event, Heo Jang, Director of the Development Finance Bureau of the MOEF underscored the significance of working as an international public official, saying "Experience in an international financial institution will bring about new perspectives on the social and economic development taking place in countries around the world and provide an opportunity to work together with colleagues who have different backgrounds and deep insight into various concerns of the international community." President Kim, Heisook said in her welcoming address, "Ewha has produced creative and proactive female talents based on flexibility, inclusiveness, and diversity. Through this job fair, I expect our outstanding talents to work actively in various fields of the international financial institutions."


In the next session, each institution provided job information and Korean employees who are currently working for the international financial institutions presented job interview and internship experiences. The presenters said "To work for an international financial institution, English speaking and writing skills are certainly important along with excellence at numbers, but, above all, you have to be able to explain well your sense of duty and why you choose the institution," while sharing detailed interview tips and practical questions.
Each international organization provided intensive consultation at the Multipurpose Hall, and around 160 participants visiting the booths could obtain practical job information and materials. In addition, on the second day of the event, individual job interviews were conducted with pre-applied 122 students.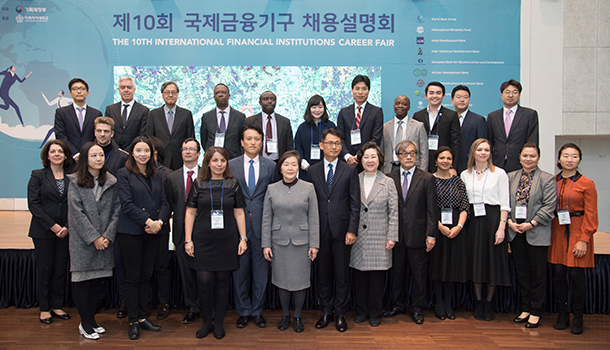 Meanwhile, the Ewha Career Development Center supports customized education and programs by field and grade to help students to design their successful career path. By opening career development classes such as internship and job-seeking mentoring, running career development programs adapting to grade-specific characteristics, and providing job clinic and consultations, it has become the "career development partner of Ewha students."