Students of AI Convergence Major Wins Excellence Prize for 'Innovation Challenge of 2023 AI Graduate School Symposium'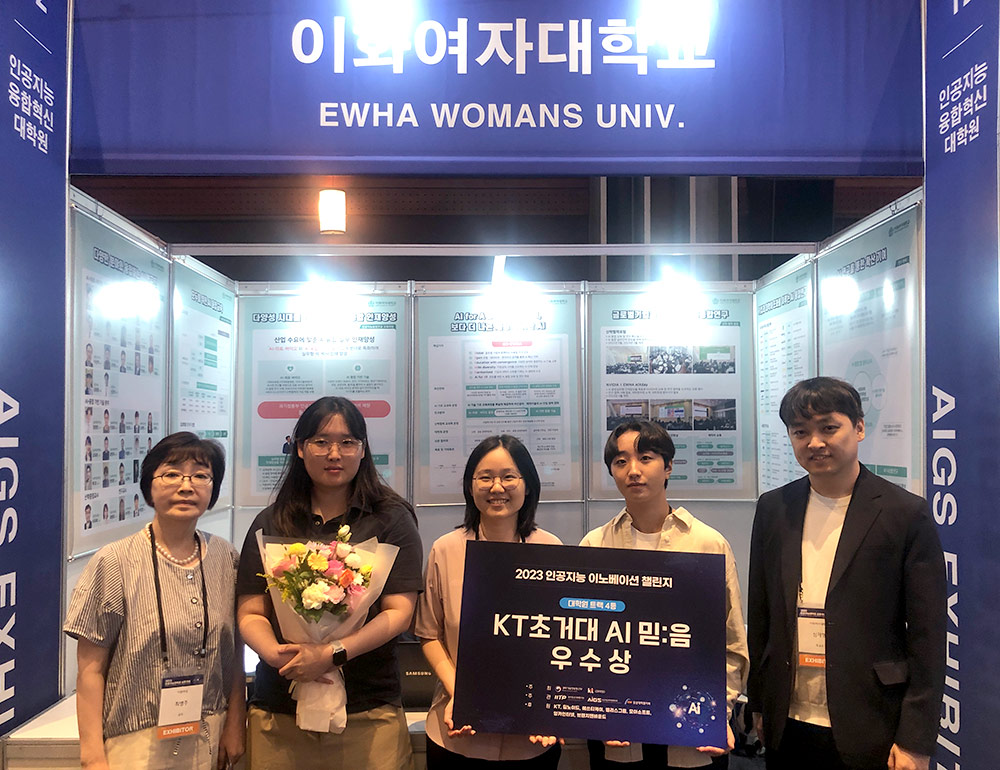 The '2023 AI Graduate School Symposium' was hosted by the Ministry of Science and ICT, and co-supervised by the IITP(Institute of Information & Communications Technology Planning & Evaluation) and AIGS(Artificial Intelligence Graduate School Council). Master's course students of the AI Convergence major, Su Bin Lee, Ji Eui Kang, Eun Seo Kim(academic adviser: professor Jae Hyeong Shim), has been awarded the excellence prize in the '2023 AI Innovation Challenge.'
The symposium was opened at the Seoul COEX on August 17th~18th. It was held in order to share excellent results of the participating 19 AI/AI Convergence Innovation graduate schools, including Ewha, and vitalize industrial-educational cooperation.
This year, the theme was 'The center of revolution, AI graduate school! Leading the enormous AI generation.' Natural Language Process(NLP) specialist Eun Sol Choi(professor at the University of Texas at Austin) and computer vision & robotics specialist Abhinav Gupta(professor at the Carnegie Mellon University) delivered the keynote speech.
During the opening, the awards ceremony for the '2023 AI Innovation Challenge' took place. This challenge used on-site data to solve AI issues in the industrial field. A total of 373 teams made up of 944 people participated, and Ewha's graduate school team of the AI Convergence major won the 'KT Large AI Mi:dm Excellence Prize.' This team, 'Sae Ro,' was composed of Su Bin Lee, Ji Eui Kang, and Eun Seo Kim. Their research was about converting finance law-related terminology into everyday words. The fact that they used NLP to apply paraphrasing skills in simplifying terminology was highly evaluated and led them to be honored with the excellence prize.
Doctor's course student, Ji Eui Kang said in her acceptance speech, "Because our members worked hard, I'm glad there was a good outcome. I will be sure to enter the next contest and make an effort to put out a better result." Integrated course student, Eun Seo Kim said, "Through the '2023 AI Innovation Challenge,' I was able to experience and learn about suggesting functions for the detailed services and study models of the Large AI Mi:dm(Mindful Intelligence that Dialogues, eMpathizes, understands, and moves)." Master's course student, Su Bin Lee told, "I will nurture this great experience of using the domestic company's LLM model and strive in my research in order to utilize the LLM model in various ways."
In July 2022, Ewha was chosen for the AI Convergence Innovation Graduate School Enterprise(manager: professor Byeong Ju Choi) and has been diligent in education & research activities with the goal to cultivate practical figures in AI convergence. In the second semester of 2020, the first master's and doctor's course students entered the graduate school's AI Convergence Major. Ever since, it has been providing optimized education with infrastructure for AI convergence research. This October, the application for 2024 freshmen will start. During the enterprise mentioned above, students enrolled in the AI Convergence major will be supported with a full scholarship.