2022 Female Technology Startup Forum Held under the Theme of ''Women, Technology, and the Future''
An event for students interested in startup culture and aspiring founders of technology-based startups
Talks with Vice President Michael W. Punke of Amazon Web Services (AWS) and a talk concert sharing visions of businesswomen and female startup founders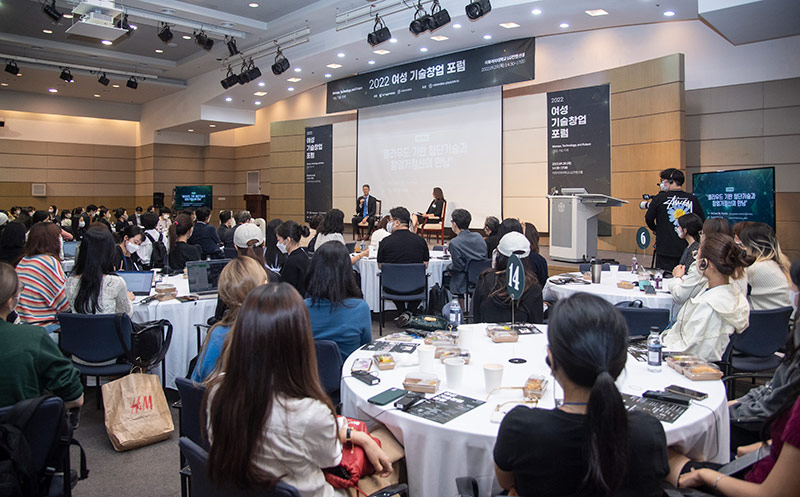 The 2022 Female Technology Startup Forum under the theme of ''Women, Technology, and the Future'' was successfully held at the LG Convention Hall on September 29 (Thu.).
As part of the ''Korean I-Corps" program, the forum was organized for companies in Korea and abroad that offer various on-demand services to share the processes and innovative results through which they realized their ideas and created new value with Ewha students who dream of starting their own business. The Korean I-Corps refers to an innovation startup education program launched by the Ministry of Science and ICT (MSIT) in 2015 upon benchmarking the U.S. National Science Foundation (NSF)'s Innovation Corps (I-Corps) program in line with Korea's situation. Ewha was selected in May as a women-specific institution of the Korea Innovation Technology Startup Center (KITS), the host organization of the Korean I-Corps program.

The forum was simultaneously held offline and online via livestreaming through the YouTube channel and began with opening remarks by President Hyang Sook Lee of the Ewha University-Industry Collaboration Foundation (EUICF), a congratulatory address by Director Bong-soo Kim of the Commercializations Promotion Agency for R&D Outcomes (COMPA), and a welcome speech by Executive Vice President for External Affairs Kyung Shik Shin. Part 1 of the forum featured talks with Michael W. Punke, Vice President of Global Public Policy (GPP) at Amazon Web Services (AWS). Meanwhile, Part 2 featured a talk concert titled ''Talks about the Future Technology and Women's Entrepreneurship" for sharing experiences and know-how of technology businesswomen.

Part 1 consisted of a conversation between AWS Vice President Michael W. Punke and Quint Simon, Head of Public Policy, APAC at AWS, under the theme of ''An Encounter between Cloud-Based Advanced Technologies and Entrepreneurship." In the conversation, Vice President Punke remarked on Amazon's corporate culture of respecting diversity, women's entrepreneurship in the cloud era, and anecdotes and know-how related to his career as a writer, a diplomat, and an executive member of a global IT company. This was followed by a Q&A session, during which students asked a range of questions including how he overcame difficulties while working for the IT company as a policy expert and what a background in liberal arts meant in engineering fields. In particular, the conversation drew attention as it marked Vice President Punke's first visit to Korea with the hope of meeting the students of Ewha Womans University, an educational institution that embodies the values of Diversity, Equity, and Inclusion as shared by AWS.

In Part 2, Soo-jung Lee, Head of Education and Healthcare at AWS, presented a special lecture under the theme of ''Women@IT." Subsequently, Soo-won Eom, CEO of Adriel, a company offering customized digital marketing solutions, shared her startup experience under the theme of ''Artificial Intelligence (AI) Digital Marketing Service," while Ji-young Kang, CEO of Robo Arete, an innovative company developing a cooking robot and AI, shared her startup case under the theme of ''Robot Food Tech Robert Chicken." Part 2 was presided by CEO Na-ree Lee of Hey Joyce and wrapped up with practical and candid conversations among female entrepreneurs on women's technology startups and plans to facilitate such startups under the theme of ''Talking about Future Technology and Women's Entrepreneurship."