The Office of International Affairs Reorganizes Global Programs and Reinforces Online Services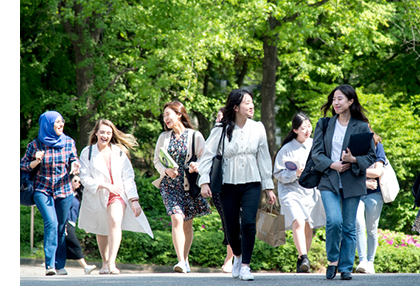 The Office of International Affairs has reorganized the system for selecting international exchange students to provide Ewha students with more opportunities to study abroad, and it sets out to select exchange students for the first semester of 2021.
The major changes of the international student exchange programs from 2021 are as follows: In addition to the existing regular recruitment periods (May and November), which is once a semester, two more additional application opportunities (August and February) will be given to students in a way to fill vacant positions, which were given up by other selected students so that more Ewha students can enjoy the expanded opportunities. Recruitment for non-major language-speaking countries, besides English and five major language speaking nations (Chinese, French, German, Japanese, and Spanish), is launched to provide students who have corresponding language skills an opportunity for student exchange programs. In the case of the recruitment for non-major language speaking countries, the selection test is exempt for students who fulfill the qualifications such as the average GPA and the language requirements of the partner school. The Office of International Affairs will further expand global programs and increase mutual student exchange with partner schools through this new effort.
The overall system has been reformed to give more students opportunities to have overseas experience. For instance, students who are dispatched to Europe, Asia, and Australia, will be given a choice to extend the period of exchange programs and those who are dispatched to English and other language- speaking countries (except said five major language speaking states which demand a language proficiency test) will be able to complete the procedure online.
The accessibility to information on international exchange programs has been improved as well. The openings of available schools will be informed prior to application and be updated until the deadline of application in order to provide students sufficient time to explore information on the schools. Also, specific and practical information on the listed universities can be confirmed by referring to dispatch reports that previous exchange students submitted on the website of the Office of International Affairs.
This school sends more than 1,000 students to prestigious overseas universities and renowned institutions through international exchanges with 1,058 academic institutions in 84 countries. In addition to the student exchange program, the school supports Ewhaians to strengthen their abilities as global talents through a variety of inbound and outbound programs such as International Summer College and Faculty-led Study Abroad Program. In particular, Ewha has been the first and only partner of Harvard University in Korea, holding Ewha-Harvard College in Asia Program and Ewha-Havard Summer School Program, and proudly demonstrates its capacity as a "global elite school" through the network with other world's leading universities and institutions including "Ewha-Luce International Seminar" with the Henry Luce Foundation