The 14th Ewha Global Empowerment Program (EGEP) was held from January 6 to 13, 2019, which was prepared to strengthen the leadership of female talents from Asian and African countries in non-governmental and public sectors.

The EGEP organized by the Asian Center for Women's Studies (Director: Jung Ji Young) is a short-term leadership training program that integrates the theory, practice, and networking of Women's Studies. The program has been conducted twice a year and participated by a total list of 288 women from 45 countries across the world since its start year of 2012. The participants include activists in non-governmental and civic groups in Asian and African countries, as well as gender specialists, researchers, and policy experts in various fields such as violence against women, human rights, development, environment, and disaster. This year, 16 female activists selected from 13 countries and women scholars from 6 counties share their knowledge and experience under the theme of "Transnational Women's Movement: Strategies for Participation and Empowerment."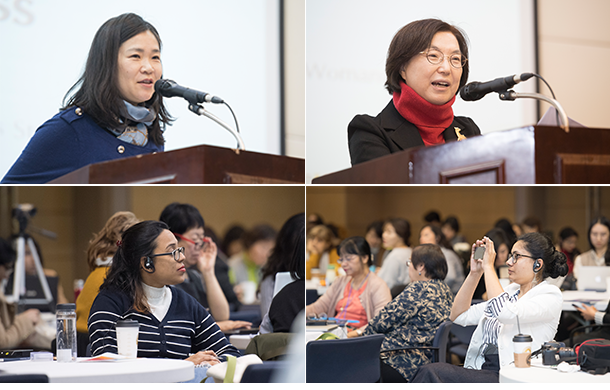 This time the EGEP launched "Action Research Workshop," in which education, empowerment, participation, and advocatory activities were focused and relevant reports were presented, which containing analyses on the successful cases and actionable strategies from recent remarkable women's movements and gender projects in different countries and regions. In addition, an international open forum was held under the theme of "Feminist Leadership on Women's Human Rights in Asia" at the LG Convention Hall in the International Education Building on Thursday, January 10, with about 150 women scholars, activists, and experts at home and abroad having extensive discussions.

The forum was held in the order of an opening ceremony, keynote speech, and presentations and discussions by session. Jung Ji Young, the Director of the Asian Center for Women's Studies said in her opening speech, "Conceiving female activists' experiences as the valuable fundamental of education, the EGEP is characterized by participatory education in which participants learn from each other. I hope this international open forum will be a great opportunity for participants to have a meaningful gathering, learning, and change, which will help them to open the door of a better future."

Professor Kim Eun-shil in the Department of Women's Studies mentioned in her keynote speech that through this program, female activists or activity researchers who have to deal with various issues emerging from each country can experience transnational feminism connected beyond boundaries. She also said, "In the future, feminist leadership will be important as it will play a key role to conduct transnational research and campaigns on women's political empowerment, support for the fostering of gender experts, male feminists' cooperation, and women's body and sexuality."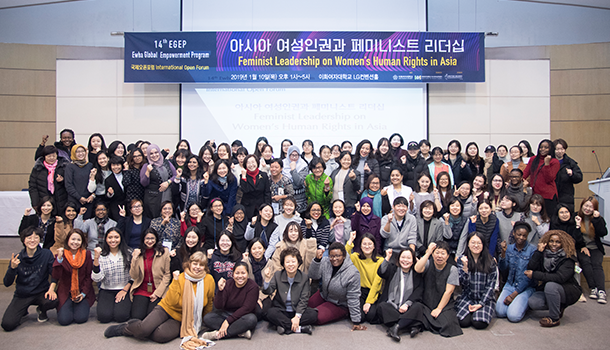 The forum was heating up in the following session, where Women's Studies researchers from different countries including South Korea, Malaysia, Myanmar, the Philippines, Indonesia, and Laos analyzed the concepts and issues of women's human rights and had an in-depth discussion about the development of feminist leadership to enhance women's human rights through research on Women's Studies, education, and women's movements in each country.