World Questions, BBC's renowned radio show having debates on the impacts of international events, was held at Ewha Womans University for the first time in Korea. In the radio program, opinion leaders and ordinary people have face-to-face discussions on major issues from all over the world with exchanging questions on the spot. The program is broadcast three times a month on the BBC World Service and has 72 million listeners throughout the world.
World Questions: Seoul, jointly hosted by the British Council in Korea and BBC World Service and supported by the Ewha Office of Global Affairs, was conducted under the theme of the future of the divided Korean Peninsula at the LG Convention Hall of the International Education Building on Thursday 14th June.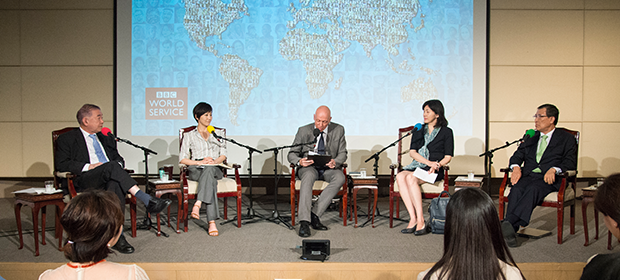 BBC Royal Correspondent Jonny Dymond chaired the debate and a panel of four experts were invited: Moon Chung-in, a Special Advisor to President Moon Jae-in of South Korea for Foreign Affairs and National Security and currently honorable professor of Yonsei University; Sohn Jie-ae, an invited professor in the Department of International Studies at Ewha Womans University and former Bureau Chief for CNN Seoul; Kim Ji-yoon, a senior researcher at the Asan Institute for Policy Studies; and Hwang Jin-ha, a former congressman and former Chair of the National Defense Committee, the 19th National Assembly. In addition, about 250 people including Ewha students were participated and the panel discussion was followed by a question and answer session on the impacts of suspending a joint military exercise between South Korea and the United States on Korea and Southeast Asia; Koreans' optimistic responses to the results of the North Korea-US summit; the current government direction of South-North relations (unification of the Korean Peninsula vs. peace in the Korean Peninsula); and shifts in the Korean job markets in line with changes in relations between South Korea and North Korea, as well as with the United States.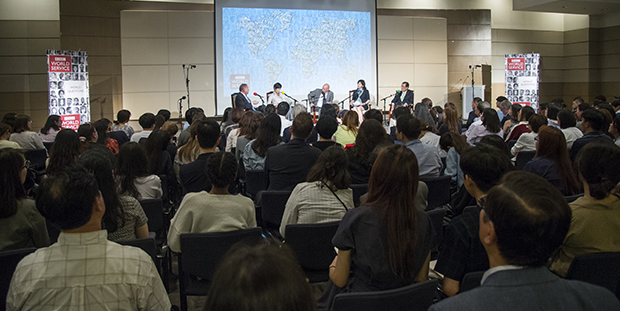 World Questions: Seoul held at Ewha will be available to listen to again on the BBC World Service website following broadcast. <Link>