Ewha's 132nd anniversary ceremony was held at the Welch-Ryang Auditorium on 31 May (Thu.) with celebration from 3,000 professors, students and alumnae.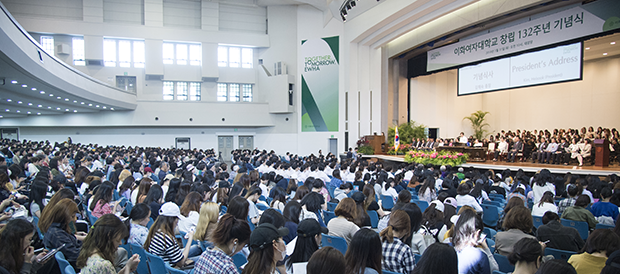 Highlighting the efforts after her inauguration to make the University faithful to its duty for the purpose of decentralization, improvement of the educational environment, internationalization, and the foundation of a human right center, President Kim Hei-sook said that Ewha would grow to a "university which moves toward the future better than the past as the cradle for female intellectuals" and encouraged students to pioneer the future with a challenge spirit, openness, flexibility, and creativity. Also, Kim requested Ewha family to join the University performing its role of a higher educational institution, saying "Ewha will make its own path slowly but firmly without giving in any difficulty."
After then, 100 faculty members received commendation for their service in Ewha for a long time─10, 20, and 30 years, and a professor of Christian Studies, Yang Myung-su, was honored with the "14th Ewha Academic Award." The Ewha Academic Award is given to a faculty member once in his or her lifetime when he or she contributes to academic and school development with outstanding research achievements.

After the ceremony, a luncheon invited by Kim was conducted at Wichita House. At the luncheon for honored guests and Ewha sponsors who participated in the ceremony, Professor Yang Myung-su gave an acceptance speech for the Ewha Academic Award, and Chairperson of the Board of Trustees of Ewha Womans University, Chang Myong-sue, awarded the appreciation plaque to the Alumnae Association that sponsored the school development fund.