Interdisciplinary Programs to Lead the Convergence and Integration Education Set to be Opened for Graduate Courses
Ewha News
2019-11-04
295
Interdisciplinary Programs to Lead the Convergence and Integration Education Set to be Opened for Graduate Courses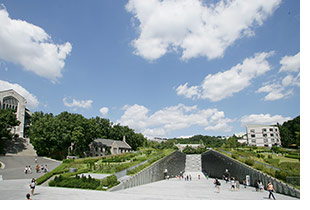 In order to provide education and innovate research of the future, Ewha Womans University will offer six interdisciplinary programs that can lead the convergence and integration education for graduate courses. The new programs include: BT Convergence; Smart Curation; Convergence Medical Device; Computational Medicine; Genetic Counseling; and Asian Women's Studies. Through these programs, Ewha plans to promote interdisciplinary research, provide university education to foster talents with integrated abilities for the future, and prepare an innovative and creative research system.
The new interdisciplinary programs place emphasis on nurturing female professionals who can lead innovation and growth in the promising fields of the future in the era of the Fourth Industrial Revolution. BT Convergence, which will be opened in the ELTEC College of Engineering, is participated by Department of Food Science and Engineering, Department of Nutritional Science and Food Management, Department of Life Science, and Department of Chemistry and Nanoscience, and designed to lead innovation and growth in the field of biology. Smart Curation, which will be offered in the College of Science & Industry Convergence, is based on the ICT convergence content. This program aims to cultivate experts and researchers with practical business abilities in areas such as fashion, food and restaurant management services, health and sports in the future-oriented smart convergence field.
In the medical filed, three interdisciplinary programs were developed as well. Computational Medicine, which is the first to be introduced in Korea, was created with the concept to lead the medical innovation in the Fourth Industrial Revolution. It aims to identify the pathological mechanism of diseases, make a diagnose, and give treatment through quantified assessment based on mathematics, engineering and computer science.
Convergence Medical Device plans to nurture practical professionals with integrated knowledge acquired through interdisciplinary education on the whole process from medical device development to practical use in the Colleges of Biomedical Engineering, Medicine, Management, Pharmacy, and Art and Design. In addition, Genetic Counseling plans to nurture experts in genetic counseling who develop expertise through expanded medical-humanities convergence thinking based on the basic knowledge of medical genomes and diseases.
Finally, Asian Women's Studies, which will be newly offered for the Graduate School, focuses on cultivating integrated talents that can combine practice and research by linking women's studies that encompass humanities, politics, economy, society, and culture with specific on-site research in Asian countries and theoretical discussion. This program can be considered the essence of women's studies and achievement of research of Ewha Womans University which was the first to include women's studies in the institutionalized education in Asia.
The newly established interdisciplinary programs will start in March for incoming graduate students for 2020 Spring Semester. Applications will be accepted from October 10 to 16. For Asian Women's Studies, female talents from developing countries in Asia who wish to major in Asian women's studies will be selected preferentially.