Invitational Panel Discussion with Helen Clark, Former Prime Minister of New Zealand
Ewha held a panel discussion by inviting Helen Clark, who was a former prime minister of New Zealand and a former first woman administrator of the United Nations Development Programme (UNDP), at room number 1002 of the International Education Building on February 13 (Wednesday).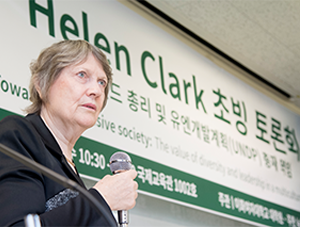 In this discussion co-held by the Graduate School (President Kim Eun Mee) and the Embassy of New Zealand in Korea, Ms. Clark delivered a keynote lecture under the theme of "Towards an Inclusive Society: The Value of Diversity and Leadership in a Multicultural Society" and discussed with academic and financial specialist panels.
Helen Clark was the first woman prime minister of New Zealand who won the election and served as prime minister from 1999 to 2008 through three terms. Starting with a member of Parliament in 1981, she served as a minister and a vice prime minister and engaged in policy developments ranging from international, economic, social, environmental and cultural policies as well as sustainable developments and climate change measures. After then, she took office as Administrator of the UNDP from 2009 to 2017 to contribute to job creation and poverty prevention of developing countries.
Former prime minister Clark remarked in her lecture that New Zealand is a multiracial country where a third of the population is the Maori and a third of people in Auckland are migrants, and there are diverse cultural communities, and explained that the country guaranteed a female suffrage for the first time in the world and enacted a gender equality policy for promoting interests of sexual minorities, and has been making efforts to multicultural policies including young Maori women's entry into society.
In addition, she said a leadership that accepts and respects diversity is important for a country to be a genuine multicultural society and especially put an emphasis on women leaderships, saying that women need to enter into society as leaders with confidence because they are interested in various problems and excellent in solving problems, and to this end, it is important to build women's solidarity through a vigorous network as well as support from men.
After her lecture, the panel discussion was moderated by Sohn Ji-ae, an invited professor of International Studies, and besides Ms. Clark, Professor Jang Han Up (French Language and Literature), Professor Heather Willoughby (International Studies) at Ewha, Christopher Raciti, a representative of Australia and New Zealand Banking Group (ANZ) in Korea participated in the discussion. They discussed the importance of fostering leaders who can accept people in diverse backgrounds, a competitiveness of multicultural society in terms of industrial aspects, and Korean society's awareness on multiculturalism.
Following the presentations of panels, students actively participated in the discussion with questions about a role of international organizations for underdeveloped countries, and suggestions about a change of awareness on multiculturalism of Korean people. Bwiru Robi Ernest (Development Cooperation, Graduate School of International Studies), who came from Tanzania, said "Africa faces a harsh reality that interests of women, the handicapped, sexual minorities, and many minority groups are hardly protected. I was impressed by efforts of Ms. Clark who embraced multicultural society and advocated its values."
Kim Eun Mee, President of the Graduate School of Ewha, said that Former Prime Minister Helen Clark is a prominent women political leader who made efforts to promote political developments for multicultural society in New Zealand, and as the chief of the UNDP, strived for support to developing countries as well as balancing economic and social developments across the world, and is a role model for Ewha students, adding that through this discussion, she gave a great impression to students as a kind leader who emphasizes practice of equality and humanism, not a cool-headed politician.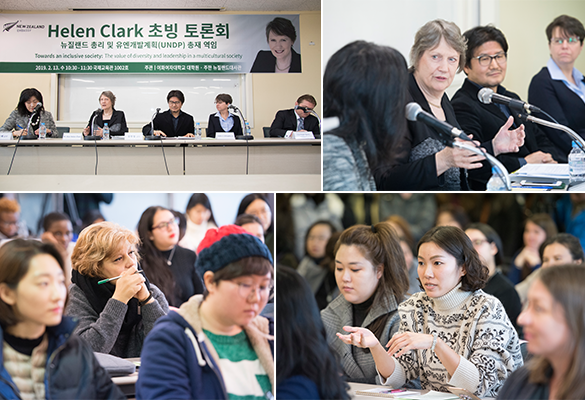 Meanwhile, many global women leaders have visited Ewha Womans University due to its fame as the best women education institute and its global network power. World women leaders including Hillary Clinton, former Secretary of State of the U.S. (2009), Michelle Bachelet, former President of Chile (2009), Angela Merkel, Chancellor of Germany (2010), Yingluck Shinawatra, former Prime Minister of Thailand (2012), Quentin Bryce, former Governor-General of Australia (2013), and Christine Lagarde, Chairwoman of the International Monetary Fund (2017), visited Ewha and communicated with Ewha students.