Madame Christine Lagarde, Managing Director of the International Monetary Fund (IMF), visited Ewha on Thursday, September 7.
Christine Lagarde is the first woman to be elected to be the head of the International Monetary Fund and a prominent figure who was re-elected to serve a second five-year term in 2016. She started her career as a French lawyer, then served as Minister of Foreign Trade, Minister of Agriculture and Fisheries, and Minister of Finance before she was appointed to the managing director of IMF in July 2011.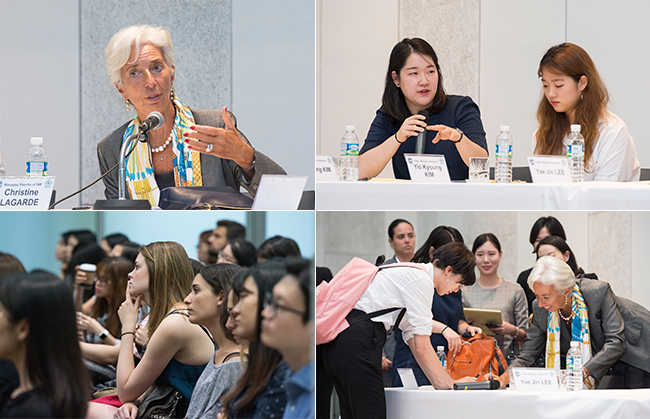 At 1:30 pm, the Managing Director and her delegation arrived at the campus, and visited Ewha Archives and then had a conversation with the Dean of the Graduate School of International Studies and the Dean of Global Affairs. From 2 pm, Ms. Lagarde had a panel discussion with 8 undergraduate and graduate students at ECC Lee Sam-bong Hall under the theme of "The Future of Korea's Education System and the Role of Women's in Society." Sohn Jiae, a visiting professor at the Graduate School of International Studies of Ewha Womans University and former Bureau Chief of CNN Seoul, Korea presided over the discussion where 150 students participated as audience.
After a series of discussions on various topics such as excessive learning time, overheated private education, education system focused on college entrance exam, work-family balance, and improvement of women's status, Ms. Lagarde said, "If these kinds of efforts of talking about issues like education system of Korea and women's human rights are continued, I believe there will surely be a slow but meaningful change."
Ewha is one of the universities that heads of state and global opinion leaders do not forget to visit whenever they come to Korea. Women leaders of the world, including the former US Secretary of State Hillary Clinton (2009), Chilean President Michelle Bachelet (2009) and German Chancellor Angela Merkel (2010) visited Ewha Womans University.