Her Royal Highness Princess Astrid of Belgium and dignitaries of the Belgian delegation visited Ewha Womans University on Tuesday June 13, 2017. The 13-member delegation led by Princess Astrid, who came to Korea as special envoy for the King of Belgium, consisted of six ministerial-level personnel, business people and officials of the monarchy.
The princess's visit was able to be arranged thanks to the special ties between Ewha and Belgium. In 2014, Ewha successfully brought in Solvay Research & Innovation Center, the national company of Belgium and international chemistry group, to Ewha campus. At the time, Solvay's total investment amounted to $21.5 million, which is the first case of a global multinational overseas company establishing a global research center in domestic universities, and it is considered one of the most representative accomplishments of the university-industry collaboration at Ewha Womans University.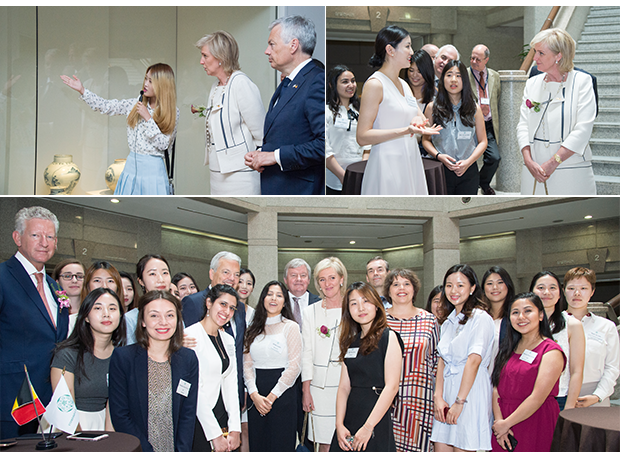 The princess and the dignitaries first visited Solvay Korea in University-Industry Cooperation Building and participated in the medal award ceremony for Kim Sun-Uk, the former President of Ewha Womans University, who contributed greatly in bringing in Solvay to Ewha campus. The delegation also took a short tour of the Ewha Womans University Museum to see some major artifacts. Afterwards, they had an informal meeting with students and a campus tour with Kim Hei-Sook, and then headed to Ah-Ryoung-Dang to participate in the luncheon prepared by the president of Ewha.
With this visit, Ewha, as one of the most representative and excellent universities in Korea, is expected to build a more strategic and solid relationship with Belgium by strengthening international exchanges and educational cooperation while further solidifying the ongoing university-industry collaboration with Solvay.