On Thursday, June 9th, the Office of International Affairs (OIA) held the 'Closing Ceremony for Spring 2016 Exchange and Visiting Student Programs for International Students' at the ECC Lee Sam-bong Hall. Out of the 425 international exchange and visiting students who enrolled in the spring semester of 2016, 370 students successfully completed the exchange/visiting student programs and would return to their respective home countries. The remaining 55 students will be continuing their studies at Ewha in the next semester.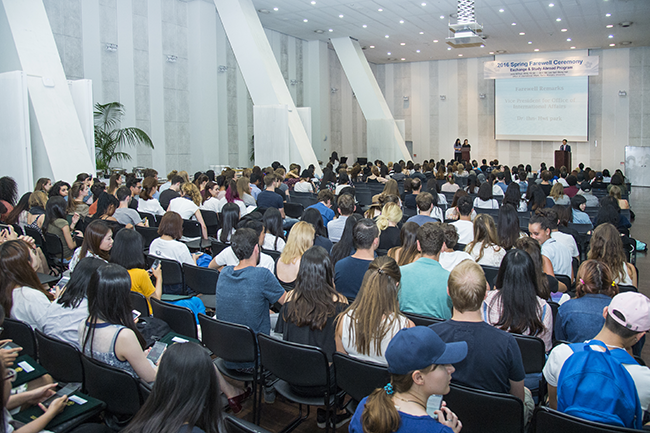 The ceremony began with opening remarks by Park Ihn-hwi, Vice President of OIA, followed by a video screening highlighting memorable moments from the semester, an address by a student representative and finally the presentation of certificates of completion. Vice President Park congratulated the students on their successful completion of the programs and offered words of encouragement. "I hope you will leave with sweet memories of Ewha and Korea, and that the experience and network of contacts that you have acquired here at Ewha would be helpful in your future."
Pictures taken by students during the semester were displayed at the venue, providing the students with a lot to remember and watch. Students whose pictures were selected as outstanding works were also presented with Ewha souvenirs.