Ewha Womans University held special lectures presented by celebrities from various areas including trade, IT, start-ups, and medicine.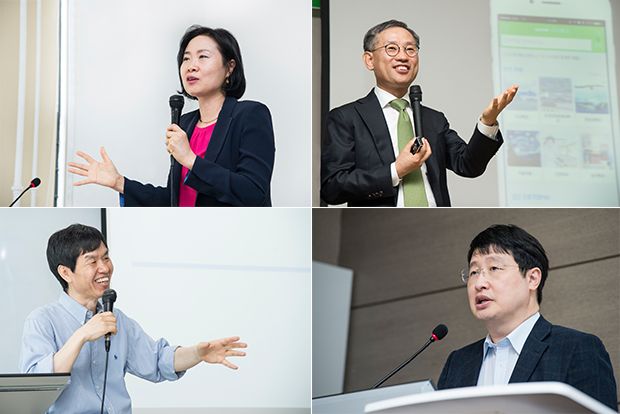 On May 21, Thursday, Chae Eun-mi, who graduated from Ewha French Language Education in 1985 and currently Managing Director of FedEx Korea, delivered a lecture under the theme of "Global Talent for the 21th Century," speaking on requirements to be global talent demanded by the contemporary society. Chae, who was appointed as managing director at the age of 38 to be the youngest managing director in FedEx Korea, and has worked in the logistics industry for more than 30 years, shared her social experiences including overcoming the glass ceiling and difficulties as a working mom, and her know-how as a female manager.
On May 13, Friday, Kim Sang-hun, CEO of the biggest web portal in Korea, Naver, gave a lecture under the theme of "Talent Naver Wants, Society Naver Dreams of." Kim, who is active in responding to issues and supports free communication, talked about how he has driven Naver's growth by setting new records every year in sales and operating profit.
On May 20, Friday, Lee Dong-hyung, founder of one of the first social network services, Cyworld, and director of PeopleSnow, a group for supporting start-ups, cheered for young people who have unlimited power to turn crisis into opportunity in a lecture under the theme of "Invincible Youth, in Success or Failure." He spoke about difficulties in founding Cyworld, how he succeeded, and the new challenge he is now taking on to support start-ups.
Meanwhile, on June 2, Thursday, Lyoo InKyoon, Distinguished Professor of Department of Pharmacy and Korea's top brain scientist, delivered a lecture under an interesting theme of "Dance and the Brain." In this lecture hosted by the Dance Research Institute, he started with a question, "Why do humans dance?" to fuse art and medicine to analyze operation of the human brain, including the structure and functions of human brain, what happens in the brain when dancing, and how dancing influences on the brain.