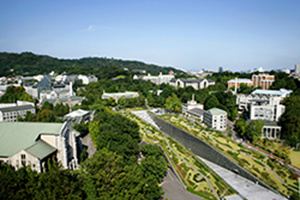 Ewha is selected for CORE (initiative for COllege of humanities' Research and Education) by the Ministry of Education and the National Research Foundation of Korea according to an announcement on March 17, thereby receiving financial support up to 9.6 billion won over three years.
The CORE project is the first government-funded program designed to assist universities in developing educational programs in the humanities. With a total budget of 60 billion won for three years, the project aims not only to reinforce humanities as a fundamental field of study, but also cultivate interdisciplinary talents who correspond with the social needs. With 46 universities applying for the newly introduced project, the two-stage evaluation process—document screening, and presentation and a Q&A session—selected a total of 16 universities: seven from Seoul metropolitan areas and nine from provincial regions. Under this project, universities are allowed to devise its own education model in an autonomous way based on five categories: university self-initiated development; global regional studies; humanities based convergence; advanced fundamental studies; and basic liberal arts education so as to operate their own specialized program that strengthens research and education of humanities.
With the vision of "developing into a world-class LUCETE college of liberal arts," Ewha is determined to cultivate outstanding talents in the humanities to be equipped with creative and interdisciplinary capabilities that can meet the demands of the 21st century, by focusing on global regional studies, humanities based convergence, and advanced fundamental studies. The term "lucete" means brightly shine in Latin, which represents Ewha's hope to foster 'shining' talents in the field of liberal arts.