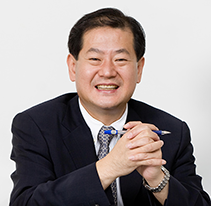 Professor Nam Wonwoo (Chemistry & Nano Science) was named the winner of the 15th Korean Science Prize in 2015. The biennial prize, hosted by Ministry of Science, ICT and Future Planning and the National Research Foundation of Korea and awarded by the President of Korea, is one of the nation's most prestigious awards.
Professor Nam was selected as the prize laureate in recognition of his works, which identified the structure and chemical properties of oxygenase intermediates and thus raised the international status of the Korean science, as well as his reputation as a world-renowned scientist achieved through his participation in various academic activities around the world.
Professor Nam has published to date a total of 261 articles in international chemistry journals of the U.S., Germany, the UK, etc. including one published by Royal Society of Chemistry, and currently works as an editor of various international journals. He also serves as a chief organizer of several international academic conferences held in Korea, contributing to advance of chemistry in Korea and enhancing national prestige.