The Ewha Office of Admissions held an event titled, "Soar up toward Your Dream with Ewha I (SDE I) at the Office of Admissions' hall between December 10 (Thur.) and 11 (Fri.) for 200 program applicants among the students who passed the 2016 early admissions.
The event, which was divided for successful applicants for the Division of Liberal Arts to be held on the 10th and for those for that of Sciences on the 11th, consisted of fruitful programs including sample listening of college lectures, lunch with the seniors, a campus tour with the Ewha Campus Leader, know-how on college life from seniors, and a conversation with the Dean of Admissions.
Pre-Ewha students experienced beforehand a variety of college life and know-how, including how to utilize Ewha 100 percent, how to enjoy a fruitful college life, and other various matters of the university, and carefully listened to the professors' college lectures. Through the question and answer session with the Dean, the prospective students asked in detail about the issues they had had in mind on Ewha, such as the flexible school system about double/minor major, interdisciplinary major, and change of major, admission to the dormitory, and application for student exchange program.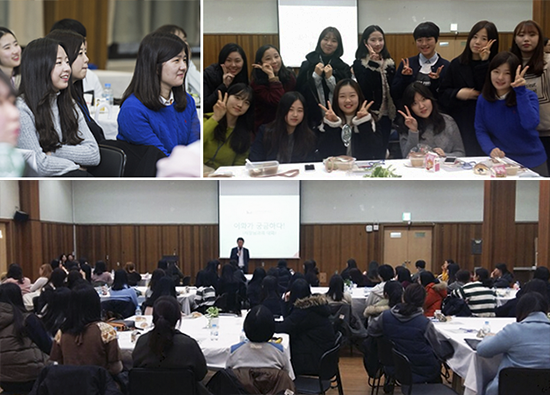 The SDE program, which began in 2011, is aimed at providing the opportunity for the successful applicants of Ewha University to experience college life through the meeting with seniors and professors and instilling pride into their minds as a new comer to Ewha, receiving heated responses from freshmen every year.