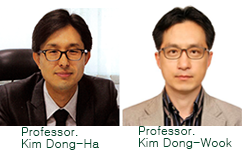 Professor Kim Dong-Ha (Department of Chemistry and Nano Science) and Professor Kim Dong-Wook (Department of Physics) were honorably commissioned as Editorial Board Members of 'Scientific Reports' by the publisher of 'Natures.' Professor Kim Dong-Ha will serve in the field of Chemical Physics while Professor Kim Dong-Wook will serve in the field of Electronics, Photonics, and Device Physics.
'Scientific Reports' is an online and publicly accessible journal curated from the publishers of Nature. The journal publishes scientifically valid primary research from all areas of the natural and clinical sciences with the Editorial Board of active researchers from all major fields within the clinical, biological, chemical, physical and earth sciences. Professor Yoon Juyoung(Department of Chemistry and Nano Science) has been already serving as Editorial Board Member since 2014.
Professor Kim Dong-Ha devoted himself to the research of nano technology-biotechnology and energy convergence through polymeric hybrid nanomaterials and has since published more than 100 research papers on premier SCI journals.
Professor Kim Dong-Wook actively researched on the area of information and optoelectronic device using functional nanostructures and has since published approximately 130 research papers in prestigious SCI journals.